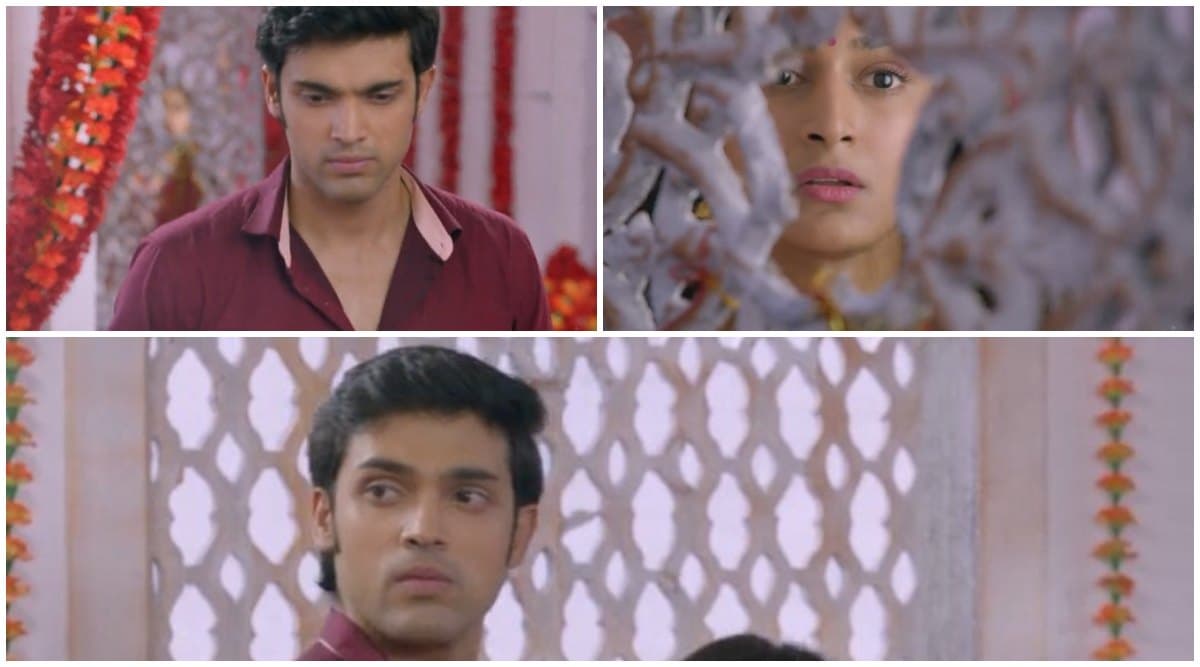 In yesterday's episode of Kasautii Zindagii Kay 2 we saw Komolika hatches a sinister plan against the Sharma's, while Anupam consoles Anurag. Later, the Sharmas are shattered to see their house on fire. Tonight's episode starts with Komolika (Aamna Sheriff) comes to Anurag's (Parth Samthaan) room and hugs him, Anurag feels uncomfortable when she touches him. Later, Anurag feels that Mohini is upset because of him and thinks he will make her happy and sleeps. Komolika gets enraged as Anurag does not have any feelings for her and thinks that soon he will forget Prerna. Kasautii Zindagii Kay 2 November 5, 2019 Written Update Full Episode: Komolika Plots to Separate Prerna from Anurag's Life.
On the other side, Veena is tensed as to what will happen to her family. Prerna (Erica Fernandes) comes there to console her. Veena tells that when everything was going to be normal this tragedy happened and gets emotional as she cannot take anymore.  Later she tells Shekar to book the ticket as they all will go to their native. Prerna says that Rajesh has taught them how to face crises and that they should not leave like cowards and face the problem and stand once again.
Meanwhile, Komolika is happy as she defeated Prerna and took away everything from her. Next day morning in Basu house, all pray in front of God. Komolika comes and tells them to come to the breakfast table as she has prepared a special breakfast for them all. Later Anurag tells Moloy and Nivedita to come to the study room as he wants to discuss something. Meanwhile, Komolika serves Mohini her breakfast to make her happy. Kasautii Zindagii Kay 2 November 4, 2019, Written Update Full Episode: Komolika Hatches A Plan To Eliminate Prerna and The Sharma Family From Anurag's Life Forever.
On the other side, Prerna tells Veena that they should try to rebuild their house, Veena says that for that they need money, Prerna says that with the low cost they can rebuild it and tells that they should not lose hope. Prerna says she will look for a job but Veena chides her as she should not work at this stage. Prerna makes her understand that she wants to work to keep herself busy, Veena agrees with her and gives permission to work but tells her to take care of her health too.
Later in the Basu's house, Anurag tells Moloy that he wants to do some job as he does not want to be home and think all day. Anurag says he wants to something of his own and asks Nivedita to help him. Meanwhile, Prerna and Veena come to the Sharma house and get emotional as everything is burnt. Prerna reminisces the good times they had in this house. Prerna tells Veena that they will start afresh and rebuild the house. Veena is happy that Prerna has stopped thinking about Anurag and carried on in her life.
Meanwhile in the Basu house, Nivedita tells Mohini that she is happy as Anurag is behaving like old times, Mohini is happy and say this all happened because of Komolika. Later, Mohini hugs Komolika as because of her Anurag is happy now. Anurag comes and tells Mohini that he is leaving for his job as he does not want to waste any time. In the precap, when Anurag is on the way to the office, he sees Prerna and calls out to her. Both Anurag and Prerna join the same company.