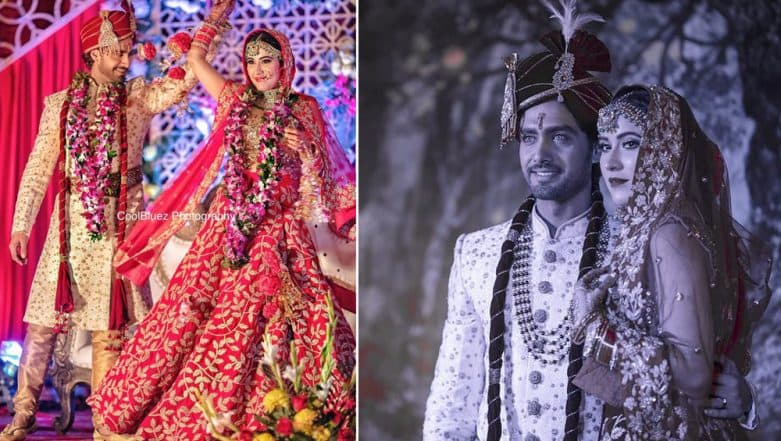 Actors Sheena Bajaj and Rohit Purohit inaugurated the wedding season of 2019, with their grand celebrations in Jodhpur. The pair who have been together since 2012, finally tied the knot on January 22 in Punjabi and Marwadi wedding ceremonies, pictures of which were very much loved by the pair's fans. And their idea of a honeymoon was quite unique, a road trip from Jodhpur to Mumbai, which the couple is currently embarking on. Rohit Purohit and Sheena Bajaj's Wedding Photos Spell 'Royal' and 'Romance'
Quiz Sheena about her wedding and the elated lady admits that she couldn't be any happier. Says Sheena, "Marriage is bliss. It's a holy and great institution. I feel blessed to be married young and the way my marriage was celebrated, it was like some award function. I'm so happy about it. It feels great to be Sheena Rohit Purohit! I say it proudly." Rohit Purohit and Sheena Bajaj Have Some Unique Plans For Their Honeymoon!
Elaborating on how she enjoyed every aspect of her wedding, Sheena revealed, "I loved doing all those poojas. Also, there were many traditional and modern customs in the last few days. We visited almost all the temples in Jaipur, big and small ones included and also saw the city around."
Revealing a little more about her big moment, Sheena said, "I was crying when I was wearing the mangalsutra and sindoor. It meant the world to me and it is such a privilege to be married."
"It was my dream wedding. A perfect wedding is every girl's dream. My life has completely changed and so many relationships have been added. Everyone calls me Bhabhi, Didi, Bahu, Mami, Chachi and Beendni. And these changes after marriage are a responsibility, which I accept happily," she concludes.