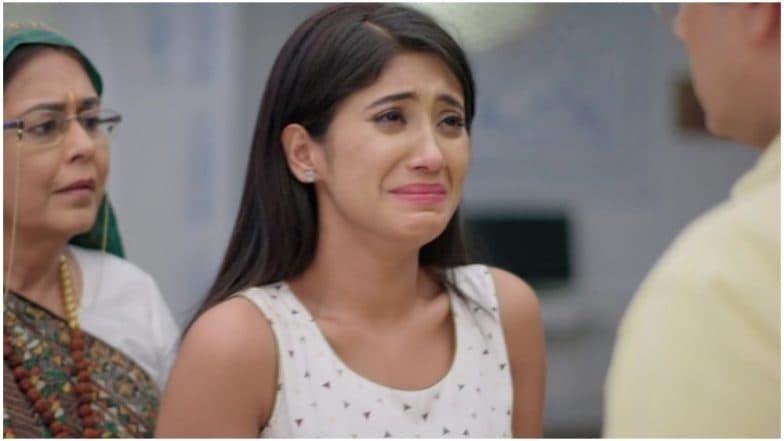 ">Today's episode of Yeh Rishta Kya Kehlata Hai starts with Suhasini shouting at Manish and telling that they should allow Naira (Shivangi Joshi) and Kartik (Mohsin Khan) to talk. Manish says he is telling this as Naira should not get stressed. Suhasini tells sitting inside the room she will feel more frustrated so let her talk to him and open up. Naira comes down and leaves from there. Kaveri tells Naksh that by Luv and Kush they all came to know that Naira called Kartik to meet her. Naksh gets mad and says why she wanted to meet Kartik who has given her so much problem. Naksh tells that he will go to stop her but Devyani tells him that he should not go and that Naira herself can handle the situation and tells that he should not interfere between husband and wife's problem and that let them both solve it.
There Naira is driving and thinking all that happened, Kartik is waiting for Naira in the park and says that he will accept whatever Naira's decision will be. Naira comes and sees Kartik. There Kirti is telling Naksh how to put the clothes to the baby. Kirti tells Naksh why he is taking tension and let them both sought it out. Naksh tells that he is scared as something wrong is going to happen.
Naira comes towards Kartik and flashbacks everything, they both come face to face with each other. Kartik tells that he has done wrong to her and asks forgiveness from her and holds her suddenly a truck losses his control and comes straight on their way. Kartik fells in one side, he tries to get up and searches for Naira. Kartik sees Naira going and calls out to her and shouts and calls her. But Naira does not listen and keeps on walking. Kartik tells that please come back and forgive him (aaya tere dar par deewana track is played in the background) Naira goes inside the Mosque, Kartik also goes in. Naira feels tired and faints. Kartik shows Naira's photo to people and asks whether they have seen her. The priest of the Mosque asks her what is her name, she says that she does not know what is her name and from where she has come. There Kartik is tensed as to where is she gone. Naira cries and tells that she cannot remember anything. The priest tells her to go to the police station and that they can help her find her family. Naira goes from there. Kartik searches for Naira and prays in front of God
In the precap, Naira asking a vendor does he knows her and who is she, Kartik comes and sees her.