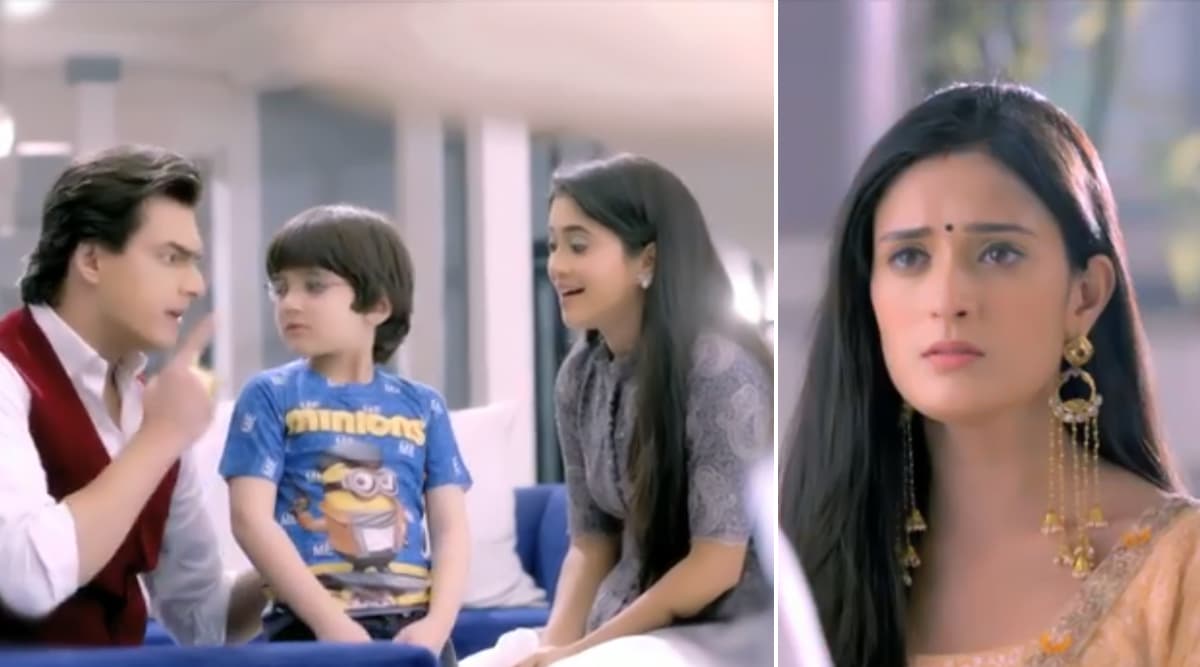 In the last episode of Yeh Rishta Kya Kehlata Hai,  Naira and Suhasini are startled when the doctor tells them that Vedika is surviving on a single kidney. Naira confronts Vedika for deceiving the family. In tonight's episode, we see Vansh asks Vedika will Naira (Shivangi Joshi) and Kairav come for the Sankranti festival as Naira had not come for the Christmas party also. Vansh tells Gayu that he wants to celebrate this function with them. Kartik (Mohsin Khan) tells Vansh that they will not be able to come this time. Kartik tells Vansh that he and the whole family will enjoy with him. Vansh gets upset as Kairav will not come. Yeh Rishta Kya Kehlata Hai January 9, 2020, Written Update Full Episode: Naira Reveals How Vedika Lied To Kartik About The Kidney Transplant.
Meanwhile, Kairav also is not feeling sad as he is not able to celebrate Sankranti festival with Kartik. Naira tells if he wants he can go to Goenka's and celebrate. Kairav tells her he wants Naira and Kartik both together to celebrate the festival.  Naira tells him they will video call Kartik and talk to him. Kartik also misses Kairav and Naira.
Vedika on the other side tries to make things perfect between her and Suhasini. Vedika goes to Suhasini and gives her sweets and asks why is she ignoring her. Vedika tells why she is punishing her as she is just doing the things which she told her. Vedika tells that if she will support her she will be happy. Vedika tells that she is the daughter-in-law of this house and not Naira. Suhasini tells Vedika that she knows that she is playing games with them.
Swarna and Manish talk to each other about Kartik and how he misses Kairav and Naira. Manish tells why Vedika is not understanding that Kartik cannot leave without  Kairav and Naira. Vedika overhears them and gets upset. Kartik gets emotional and cries, Vedika sees him and gets disturbed. Vedika calls Pallavi and tells she is unable to make Naira away from Kartik and the family. Vedika tells Pallavi that she feels that she should leave the Goenka's and go as no one loves her here the way they love Naira. Pallavi makes her understand that she should fight for her rights. Pallavi tells Vedika that now no proof is there against them and she should try her level best to get  Kartik back.
Kairav and Naira celebrate Sankranti and flies kites. Naira misses Kartik and all the family and gets emotional. Meanwhile, Vansh request Gayu to take him to Kairav as he is not liking it here. Gayu takes Vansh to Kairav to celebrate the Sankranti festival. Vansh is happy as he will celebrate  Sankranti with Kairav.
One by one all leave the Goenka house and go to Singhania house to celebrate Sankranti. Suhasini also makes excuses saying that she has to go to the temple goes to the Singhania house. Kartik and Vedika are left alone in the house. Naira is happy to see all the Goenka's and enjoy with them the festival. Kairav dance and sing together and spend a good time with family but misses Kartik.
In the Goenka house, Vedika is happy as she is with Kartik and enjoys the festival. Naira misses Kartik and gets emotional. Just then Kartik comes there, Kairav gets happy to see him and hugs him tight. Naira is also happy to see Kartik. Naira sees Vedika coming from behind and gets disturbed.
 In the precap, Naira tells Kartik that she wants to tell him a truth about Vedika.