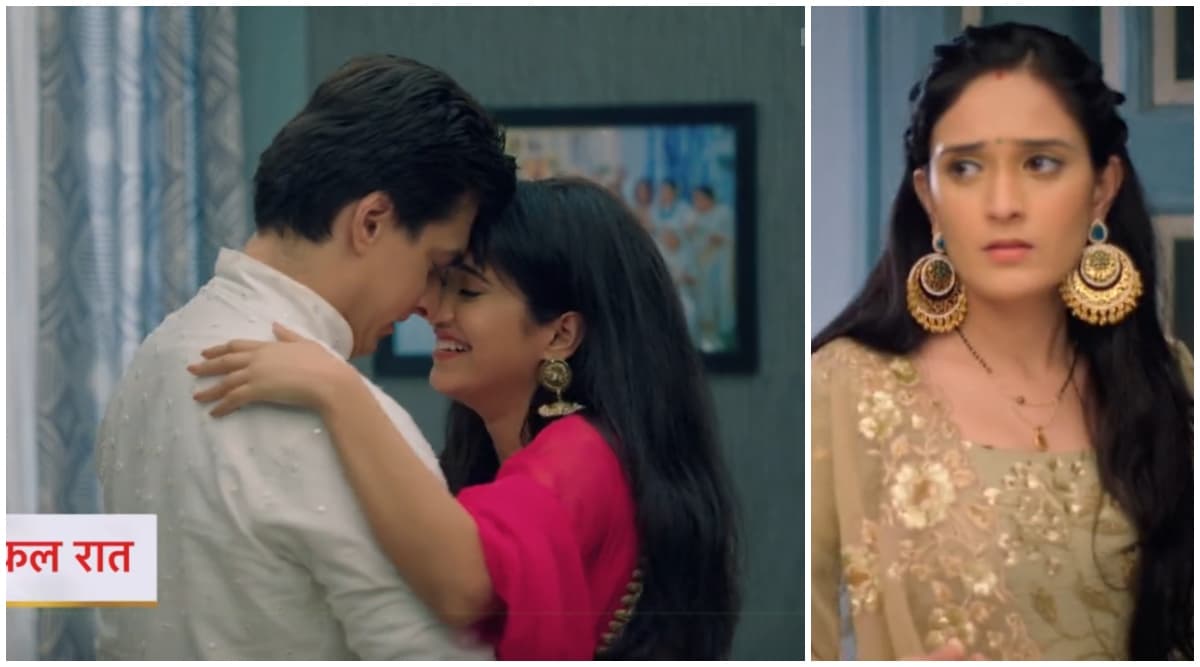 In the last episode of Yeh Rishta Kya Kehlata Hai we saw Kartik and Naira behave strangely in front of Kairav so that he does not suspect the truth. Later, the two of them quietly share a romantic embrace at a party. Tonight's episode starts with Kartik (Mohsin Khan) helps Naira in fixing her blouse. On the other side, Kairav and Vansh are dancing and holding the pole on which the electric bulb is going to fall, Vedika wants to come to help but one lady is not allowing them to go in. Yeh Rishta Kya Kehlata Hai October 3, 2019 Written Update Full Episode: Naira Gets Nervous as Kartik Brings the Best Lawyer on Board for Kairav's Custody.
Later Naira (Shivangi Joshi) and Kartik come out. Kairav forces Naira to dance (jugada tala woyi chabila taada track plays in the background), Kartik watches Naira dance. Vedika sees them and sees that the electric bulb is just above Naira which can fall any moment, Vedika thinks she will not go to help Naira as because of her all the problems are coming in her life. Later Vedika thinks she should help her and shouts to Kartik so that he can help her, she shows Kartik the electric bulb wire which is going to fall on Naira, Kartik pushes Naira away and saves her from getting hurt. Kartik berates the organizers for not arranging for the safety of the guests.
On the other side, Damini thinks what to plan so that Kartik wins the case as it is so difficult, she calls one of her spies and tells him to keep an eye on Naira. Back in the dandiya function, Vedika comes and hugs Naira as she is safe. Naira is shocked to see her behavior. Later Naira feels someone is watching her but finds no one. Meanwhile, the Goenka's and Singhania's are tired dancing in dandiya, they search for Kartik and Naira.
On the other side, someone kidnaps Naira in a van. Naksh tries Naira's number but it is not connecting, later he gets a message from her phone saying she is going home as her head is aching. On the other side, Naira sees Kartik also with her, they both are kidnapped by the goons. Naira remembers that she had told Kartik that she will go home and as she goes some goons attack her and when Kartik comes to save her they attack him also and take along with Naira.Yeh Rishta Kya Kehlata Hai October 1, 2019 Written Update Full Episode: Kartik Challenges Naira For Kairav's Custody.
On the other side, the goons bring Naira and Kartik in a warehouse. Meanwhile in the dandiya function all search for Naira, Naksh calls his guard to find out if Naira reached home, the watchman sees Naira's room lights on and says that she has come as the lights are on and ask should he call her to talk with them, Naksh says let her rest.
Later, in the dandiya function, Suhasini tells all that they should go home as it is late. But Vansh and Kairav tells them to wait for some time, they all go to have some snacks. Back in the warehouse, the goons tell Kartik and Naira that they will call their family and demand ransom money. They inject intoxication injection to Kartika and Naira, they both feel dizzy and talk rubbish as both are not in their senses.
In the precap, Naira pleads Kartik not to take her kid away, Kartik promises that he will not hurt her and take Kairav from her.