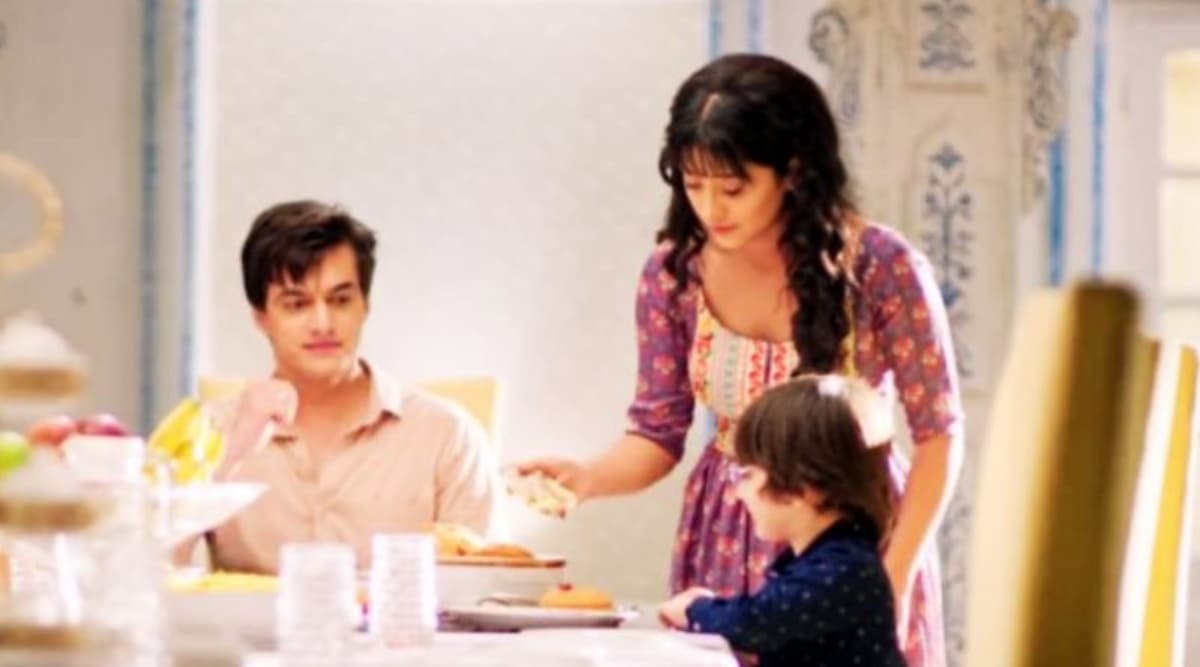 In yesterday's episode of Yeh Rishta Kya Kehlata Hai, we saw Naira attempts to stop Vedika from committing suicide and makes a startling decision. Later, an enraged Kartik decides to confront her. Tonight's episode starts with Naira (Shivangi Joshi) trying Kartik's (Mohsin Khan) number but it does not connect. Just then Suhasini and everyone come and confront Naira as to why she wants to trouble them and why is she taking Kairav away from them. Naira pleads them to allow her and Kairav go, as only after that can Kartik and Vedika begin their married life. Naira tells them that she has found a solution to all these problems and has filed for divorce from Kartik. Naira says that till she legally does not take divorce, Vedika and Kartik's marriage will not be legally accepted. Naira says she wants to go away as Kartik cannot leave without Kairav. Yeh Rishta Kya Kehlata Hai September 30, 2019 Written Update Full Episode: Naira Stops Vedika from Committing Suicide by Promising to Divorce Kartik
Later, Manish berates Naira that she takes all decisions by herself she never wants to listen to anyone. Naira tries to make him understand that she took the decision for everyone's happiness. But Manish is not ready to listen to her and says that he or anyone from the family won't tolerate Kairav's separation. The Singhanias argue with the Goenkas and no one is ready to listen to each other. Meanwhile, Gayu comes and tells Naira to find where is Kartik as she is scared if he has taken some drastic step, Naira goes out in search for Kartik.
Meanwhile, Naksh calls Naira and asks why is she so tensed for Kartik and orders her to return home, but Naira says she will find Kartik and come back. Later, when Naira returns to Singhanias, she sees all the Goenkas still there and gets tensed and asks if Kairav is alright. Naira asks why they are all looking so disturbed. Naira sees Kartik, who comes with papers in his hand. Naira says she wanted to tell him but Kartik does not answer her questions or talk to others. Kartik tells that he saw the papers and is happy that she took this step and says that he also took a step without asking her. He then reveals that he has filed for Kairav's custody and that after divorce, the court will decide with whom Kairav shall stay and gives her the court papers. Naira sees the papers and gets emotional as Kartik has got stay order, which means she cannot take Kairav anywhere.  Devyani and Suhasini get tensed as to what will happen now.
Later, Kartik confronts Naira and tells that they will legally fight with each other and that she cannot take Kairav away from him. Kartik says she wants a divorce and he wants his son. Kartik gets furious and tells her that he will never let his son go away and will take Kairav's custody. Naira chides Kartik and says she will never give her son to anyone and says that it is her son and she will decide.
In the next episode, Kartik tells Manish to find the best lawyer to fight his case and Niara tells Naksh the same thing.