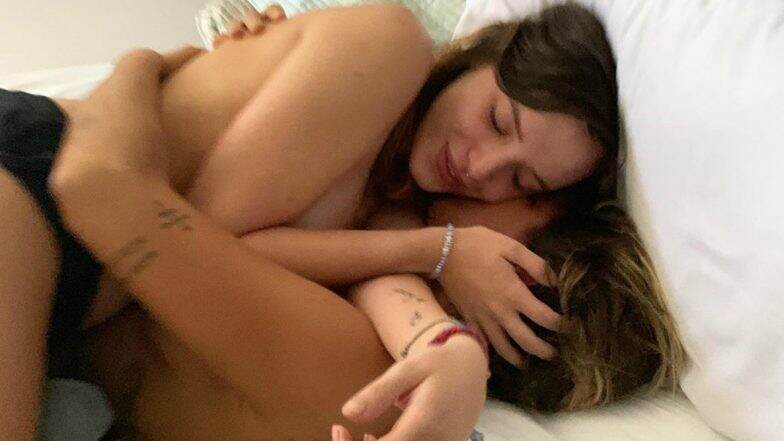 Bella Thorne has a new lady love in her life and the actress made sure to give us a glimpse of her girlfriend in her latest Instagram post. Thorne shared a couple of photos on Instagram of herself cuddling up to her new girlfriend who seems to be camera shy. Thorne is seen cuddling her girlfriend Alex Martini in a series of topless pictures. In the pictures, we see the duo wearing only high waisted briefs. These pictures are certain 'xxx-tra hot'. Bella Thorne Set to Win PornHub's 'Vision Award' for Her XXX Debut Project at the Annual PornHub Awards 2019.
Her girlfriend Martini's face is hidden in these hot pictures and the Pornhub Award-winning director had a rather sweet caption to tell us why Martini was hiding her face. She wrote, "She's very cute, the first girl I have dated that's camera shy." Thorne's sister Dani too commented on the pictures saying," "Awww this is so sweet."
Check Out Bella Thorne and her Girlfriend's Pictures Here:
Earlier, Throne was dating Mascolo, an Italian singer. In September, the couple had packed a lot of PDA on the red carpet for the world premiere of Thorne's directorial debut, Her and Him, at Oldenburg's Film Festival in Germany which also won her the Pornhub's Vision award.
We have no clue how long Thorne and Martini have been dating, but Thorne had commented on one of Martini's Instagram posts in early September, writing, "I love this pic of u," and "So sexy" Martini "liked" both of Thorne's comments which suggests that may have been the start.