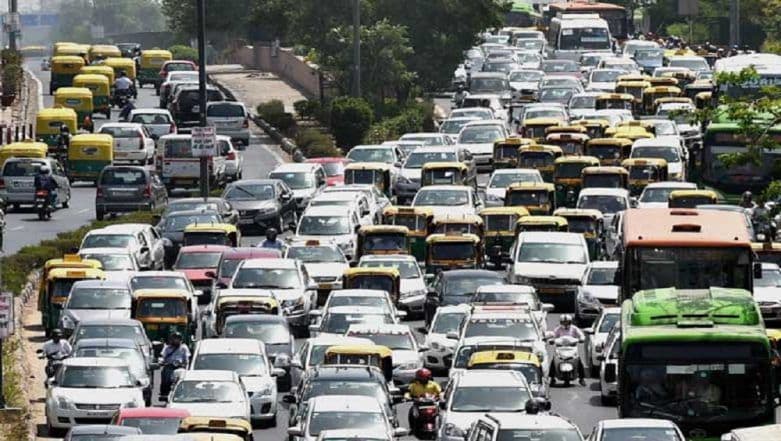 Thane, April 19: Mumbra bypass to remain shut for vehicular movement from April 24, 2018 for two months due to the Public Work Department (PWD) repair works. On Thursday the Thane Police Commissioner Parmveer Singh called a press conference to give the details of traffic diversion.
The interior parts of Thane and Navi Mumbai will experience heavy traffic as almost 40,000 heavy vehicles use the bypass route daily, but will be diverted due the repair work. While, Thane Guardian minister Eknath Shinde ensured that motorist will have to pay only one toll.
Due to route diversion vehicles coming from Airoli will get two toll nakas', hence, until the repair work continues they will be paying only one toll and other has been exempted.
दिनांक २४ एप्रिल २०१८ पासुन मुंब्रा बायपास ब्रिजच्या दुरुस्तीचं काम चालु होणार असल्याकारणाने ठाणे वाहतूक विभागाकडून खालीलप्रमाणे अधिसुचना जारी करण्यात येत आहे . pic.twitter.com/O0Yv8OuXOn— Thane City Police (@ThaneCityPolice) April 19, 2018
Mumbra bypass is the only link from Jawaharlal Nehru Port Trust (JNPT) to the western part of India as it is shorter route and easily accessible.
However, when this road will be shut, motorists will only have two other alternative roads to travel to and fro JNP they can go via Airoli and enter Thane or can take the Kalyan road towards Govindwadi bypass and enter Bhiwandi.
Also, if these vehicles come from Airoli then they will have to pay two tolls, but vehicles have been give exemption on one toll.
The PWD will be undertaking repair work of the dilapidated Mumbra road overbridge which goes above the railway line. During this time not only the ROB be repaired, but maintenance work of the 3 kilometre Mumbra bypass will also be carried out.
The repair work includes putting bearings, filling potholes and stone barricades. The press release elaborates after the repair work is completed it will help to decrease the vibrations which one feels while travelling on the bridge.
Also, the bypass has sharp turns due to which there had been many accidents wherein the vehicles have toppled. So, by placing stone barricades it will help to avoid such fatal accidents.