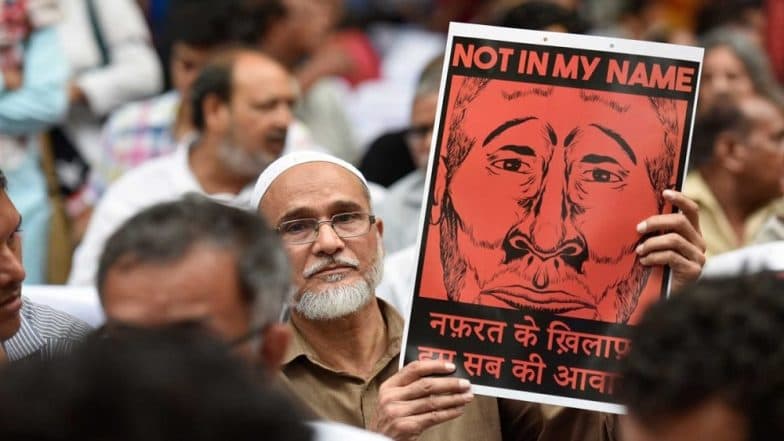 Jaipur, October 6: In a shocking case of hooliganism, a Muslim couple was harassed by miscreants in Rajasthan's Alwar and forced to chant "Jai Shri Ram". The anti-social elements not only offended their religious sentiments, but also verbally abused them. One of the two accused also outraged the modesty of the Muslim woman by flashing before her. Both the hooligans have been arrested by officials of the Kotwali police station, under whose jurisdiction the area of crime falls.
The accused have been identified as  Vansh Bhardwaj, 23, and Surendra Mohan Bhatia, 32. They targeted a Muslim couple from Haryana on Saturday night at 11:30am, when they were waiting for a bus. The men, after identifying the couple as Muslims through their attire, forced them to chant "Jai Shri Ram", reports citing police officials said. Kashmiri Student Beaten by Mob in Rajasthan's Alwar, Forced to Wear Woman's Clothes; Locals Capture Video.
The onlookers intervened after one of them began flashing in front of the woman. The eye-witnesses overpowered the accused and handed them over to the police. A complaint was registered with the Alwar Mahila Thana, which later transferred the FIR to Kotwali police station.
The victimised husband and wife were permitted to leave by Sunday morning, after the formalities were completed. The accused have been taken into custody and booked under IPC sections 323 (voluntarily causing hurt), 354A (assault or criminal force to woman with intent to outrage her modesty), 386 (extortion by putting a person in fear of death or grievous hurt ), 295 (injuring or defiling place of worship with intent to insult the religion of any class) and 509 (word, gesture or act intended to insult the modesty of a woman).