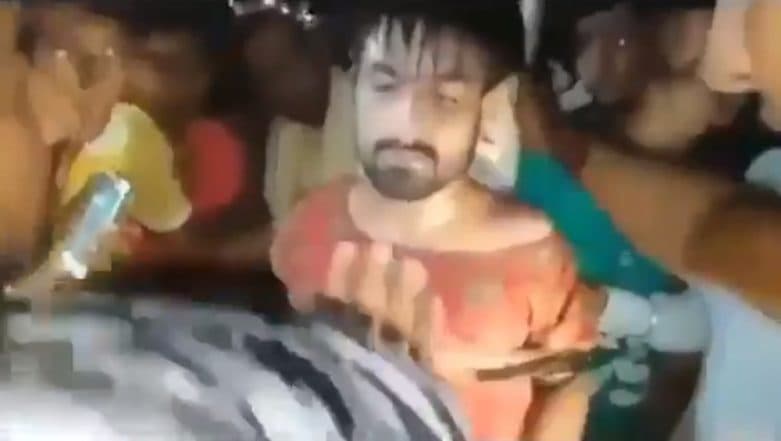 Jaipur, September 25: A Kashmiri student, identified as Mir Faiz, was beaten up by a mob in Rajasthan's Alwar. The video of the assault has gone viral, and shows the victim tied to a pole and dressed in woman's clothes. A preliminary probe into the matter has revealed that Faiz was attacked on Wednesday at the Neemrana market in Alwar. The crowd which viciously attacked the Kashmiri suspected him of being a "child-lifter".
A police case has been registered by Faisal, the elder brother of Faiz. In the complaint, he alleged that three youths forced Faiz to sit on their bike and then took him to an isolated place. They threatened him to wear the woman's clothes and walk into the Neemrana market. Pakistan Twitter Accounts Suspended Over Kashmir Content.
"(The three men) took him to an isolated place where he was forced to wear a woman's clothes. They then instructed him to walk around the market in those clothes. They threatened to kill him if he did not," online portal Quint quoted Faisal as saying.
Faiz, on reaching Neemrana market, rushed into an ATM and tried to change his clothes. But a crowd had gathered at the spot and suspected him to be a child-lifter. They tied him to a pole and kept thrashing him, the complainant said.
Video of The Incident:
This is Faiz Mir, a Kashmiri, who was beaten up in Rajasthan's Alwar district on 4 Sept.

In his complaint Faiz has said he was threatened by 3 men who took him to an isolated spot, forcibly made him change into a woman's clothes & told him to walk in the Neemrana mkt.@TheQuint pic.twitter.com/z9edBC8v3o

— Aishwarya S Iyer (@iyersaishwarya) September 5, 2019
Based on the prima facie evidence, the police has registered an FIR under sections 323 (voluntarily causing hurt), 143 (unlawful assembly), 341 (wrongful restraint), 342 (wrongful confinement), 505 (intent to cause hurt) and 506 (criminal intimidation) of the Indian Penal Code.
Faisal, who works at a firm in Delhi, has expressed fear that his younger brother may be booked by the police on child-lifting charges. "He is a student, studying mechanical engineering. He is not a criminal. They have searched his premises thrice and have locked him up in custody," he said.