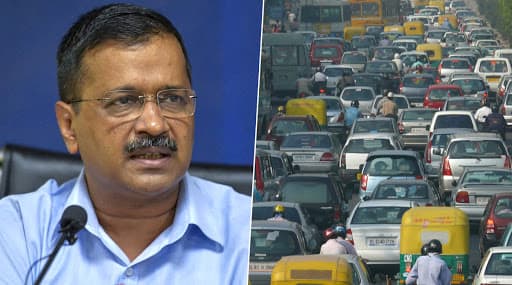 New Delhi, October 12: Delhi Chief Minister Arvind Kejriwal on Saturday announced that along with petrol and diesel cars, privately-owned vehicles plying on CNG would have to comply with the odd-even scheme of the government -- beginning in the national capital from November 4 to would continue till November 15.
Making the announcement, Kejriwal made it clear that the exemption provided to private CNG cars ends from this time, and people would have to comply with rules and regulations. This is the third time that Kejriwal government is going to roll the odd-even scheme in the national capital, and this time too, women drivers have been exempted from the traffic restrictions. Odd-Even Scheme to be Implemented in Delhi From November 4 to 15 to Combat Pollution, Announces Arvind Kejriwal
Also, the odd-even scheme would not be applicable on weekends, and traffic restrictions would be in place from 8 am to 8 pm the weekdays. Addressing the press conference, Kejriwal said, "Women driving alone, cars having all women as occupants and women accompanied by children aged less than 12 years will be exempted."
As per the odd-even scheme of the Delhi government vehicles with odd and even number plates are allowed to operate on alternate days of the week. In the third phase of the odd-even scheme, the state government is mulling on whether they should exempt two-wheelers or not and are in consultations with the experts. The flagship scheme was first launched by the AAP government in 2016, with an aim to reduce the pollution-level of the national capital.