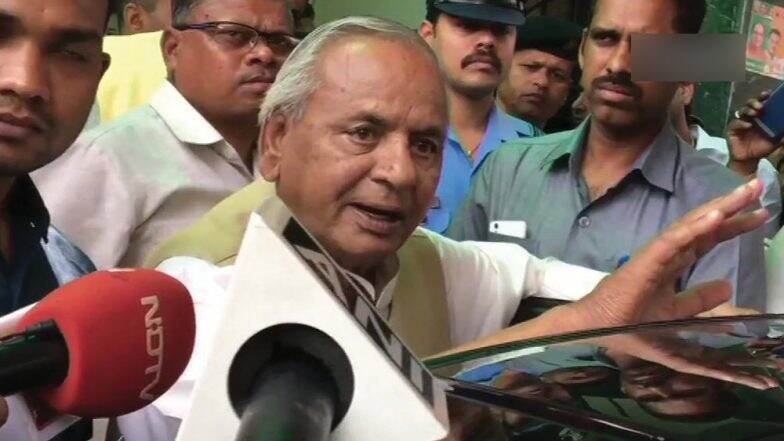 Lucknow, September 9: The Central Bureau of Investigation on Monday, September 9, moved a special court in Uttar Pradesh's Lucknow seeking an order to produce former Rajasthan Governor Kalyan Singh in the Babri Masjid demolition conspiracy case. The CBI move to the court after the 87-year-old leader quit the governorship, a post which offered him immunity in the trail. Rajasthan Governor Kalyan Singh to Face Charges in Babri Masjid Demolition Case.
On September 3, Singh's tenure was ended as a governor and on September 8 he handed over the charge to Karlaj Mishra. The district judge and special CBI judge (Ayodhya case) SK Yadav has directed the investigative agency to produce a proof that Singh is no more governor. The matter has been adjourned till next hearing on September 11.
Singh is an accused in the Banri Masjib case also with the Bharatiya Janata Party (BJP) veterans Murli Manohar Joshi, Lal Krishna Advani and Uma Bharti. Singh, who was Chief Minister of Uttar Pradesh when Babri Masjid was razed down in 1992, was welcomed in the BJP in Lucknow.
The CBI has filed charge-sheet against all the accused including Singh in 1993. He was appointed as the governor in 2014 for a term of five years, which expired on September 3, 2019, the CBI said in its application.
On April 1, 2017, the Supreme Court ordered the restoration of criminal conspiracy charges against senior BJP leaders, terming the High Court's judgement of dropping the charges as "erroneous". In July this year, the top court had asked the special CBI court in Lucknow to complete the trial in the December 1992 Babri masjid demolition case within nine months.