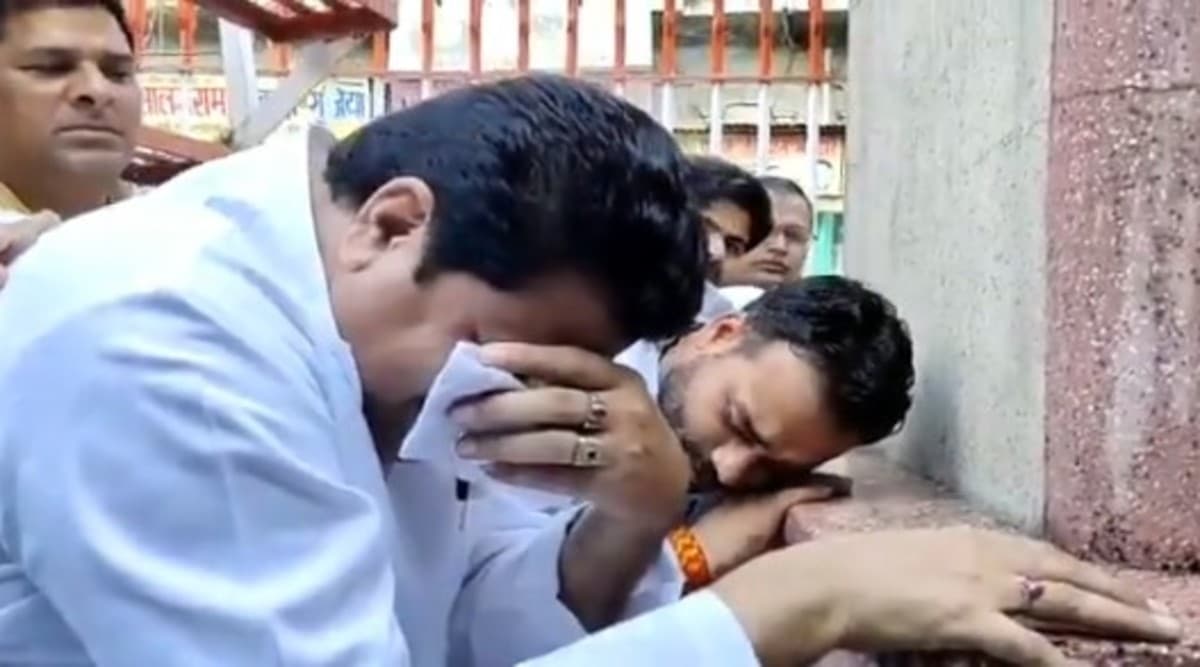 Sambhal, October 3: On the occasion of Gandhi Jayanti 2019, a Samajwadi Party (SP) leader was seen crying in front of Mahatma Gandhi statue and missing his presence. The clip shows SP District President Firoz Khan and his supporters crying while bowing in front of Gandhiji's statue. The video of the act which is going viral on social media has raised questions that whether he was actually crying or acting. Samajwadi Party Leader Firoz Khan Fools UP Police by Wearing 'Sehra' to Reach Rampur For Expressing Solidarity With Azam Khan.
On October 2, Khan with other SP leaders reached Fawara Chowk in Chandausi Kotwali area and paid homage to the father of the nation. Khan, in front of the camera, started crying and said, "where did you go Bapu. You liberated such a big country and left us alone. All our desires are ending slowly."
SP leader Firoz Khan Cries in Front of Gandhi Statue:
'लोकप्रियता हासिल करने के लिए सपा जिलाध्यक्ष करते रहते है अजीबोगरीब नाटक'!

सम्भल: 2 अक्टूबर गांधी जयंती के मौके पर सपा नेताओं की नोटंकीबाज़ तस्वीरें आई सामने गांधी प्रतिमा के नीचे बैठकर कैमरे को देखते ही रोने का ढोंग करते नज़र आए सपा जिलाध्यक्ष फ़िरोज़ खान व अन्य पदाधिकारी! pic.twitter.com/7WqFNsDECA

— आदित्य जयराम तिवारी (@adityatiwaree) October 2, 2019
The clip also shows Khan's colleagues intensifying their cry as the leader addresses Gandhi's statue. This video has left social media users in a split. While some say he was acting, others believe that he was actually crying.
Sent Him to Big Boss
Big Boss mein bhejo ISS RonduMal Ji ko.#BigBoss13 please give him a VIP entry in your show.

Super Drama karta Yeh Nautanki.

— Manish Mishra 🇮🇳 (@Manish23mishra) October 2, 2019
Neta or Abhineta?
Arey 😂😝🤣😂

Is this a Neta? Or a Abhineta?

— Abhishek (@vai_abhishek) October 2, 2019
India's Got Talent
India's Got Talent !!!!

— One Of Four (@charlogdude) October 2, 2019
Meanwhile, some Twitteratis also came to his support and believed that he was actually crying.
तुमको कैसे पता की ये सत्तारूढ़ पार्टी की विपक्षी पार्टी सपा के नेता रोने की नौटंकी ही कर रहे हैं न कि सच में रो रहे हैं।@samajwadiparty @UPSamajwadi @MediaCellSP @yadavakhilesh

— Fakeer_Father (@devershit) October 2, 2019
He isn't acting. And everyone stop blaming him.

He is right he misses Mahatma Gandhi so what's wrong in it.

They looked so nice on the Notes he collected before Modiji came in.

— Abhi (@abeiscross1) October 2, 2019
Interestingly, Firoz Khan is the same person who had dressed as a groom, while his supports posed as "baraatis" in order to reach Rampur to attend a meeting called by SP chief Akhilesh Yadav last month. The leader had come up with baarat and sehra idea to dodge the police restrictions imposed in the city.