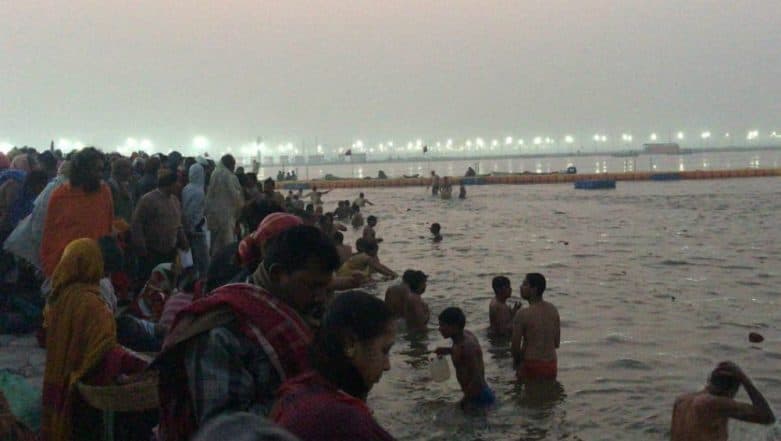 Varanasi, March 15: It seems like "Namami Gange- National Mission for Clean Ganga" project worth Rs 2000 Crore by Union Government to clean, conserve and rejuvenate Ganga is not up to the mark. According to data collected by NGO Sankat Mochan Foundation (SMF), there is a significant rise of coliform bacteria and Biological Oxygen Demand, which are important parameters to check the sanitary quality of water. PM Narendra Modi's 1,800 Mementos Auctioned to Raise Funds for Namami Gange Programme.
SMF, devoted to cleaning the pollution of the Ganges has been closely monitoring the quality of river since the launch of the Ganga Action Plan in 1986 by Former Prime Minister Rajiv Gandhi. Working as a watchdog for clean Ganga, the non-profit organisation has set up his own laboratory to analyse the samples of Ganga water regularly. Haridwar And Rishikesh to Soon Get 100% Sewage Treatment Facility Under Namami Gange Project.
Data by SMF's lab in Tulsi ghat showed a significant rise of bacterial pollution in the Ganga river. Coliform bacteria should be 50 Most Probable Number (MPN)/100 ml or less in drinking water and 500MPN per 100ml in bathing water, while the Biological Oxygen Demand (BOD) should be less than 3mg/litre. According to the analysis of data collected by SMF, faecal coliform rose to 3.8 crore (upstream at Nagwa) and 14.4 crore (downstream in Varuna) in February 2019 from 4.5 lakh (upstream) and 5.2 crore (downstream) in January 2016. Similarly, BOD level rose to 66-78mg/I in February 2019 from 46.8-54mg/I in January 2016.
Meanwhile, the National Green Tribunal, earlier this month, directed the Uttar Pradesh and Uttarakhand Pollution Control Boards to display the water quality of river Ganga at all the main locations on the monthly basis, to indicate the river water is fit or not for drinking and bathing.