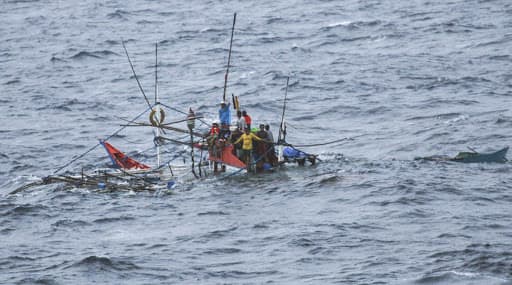 Hyderabad, September 17: The death toll in Godavari boat tragedy rose to 17 as nine more bodies were recovered on Tuesday. The teams of the National Disaster Response Force (NDRF) and State Disaster Response Force (SDRF) have been carrying out rescue operations since Sunday, the day when the boat was capsized. As per officials, 30 people are still missing, and by today evening, more bodies can be recovered. Andhra Pradesh: 11 Drown After Boat Capsizes in Godavari River, Jagan Mohan Reddy Announces Rs 10 lakhs ex-Gratia to Deceased's Kin.
According to a report published in Hindustan Times, the capsized boat was also located on Tuesday at a depth of around 200 feet in the river at Kachuluru village. There were a total of 73 people on board, out of which only 23 were saved. Locals at Rajahmundry located four bodies were found floating on the water at Devipatnam village. Meanwhile, two more bodies were seen floating at the Coffer dam of Polavaram project. Some bodies were also found along riverside.
On Tuesday, Andhra Pradesh Chief Minister YS Jagan Mohan Reddy has announced Rs 10 lakh as ex-gratia to the families of the victims who died in the Godavari boat tragedy."During the review meeting on boat tragedy, Reddy announced Rs 10 lakh for deceased's families, Rs three lakh for the injured and Rs one lakh for survivors," a statement from Chief Minister Office said.
The tragic incident took place on Sunday in Godavari River in Devipatnam of Andhra Pradesh. The boat capsized when it was taking the tourists from the Gandipochamma temple on the banks of the river to the scenic Papikondalu hills for sightseeing.