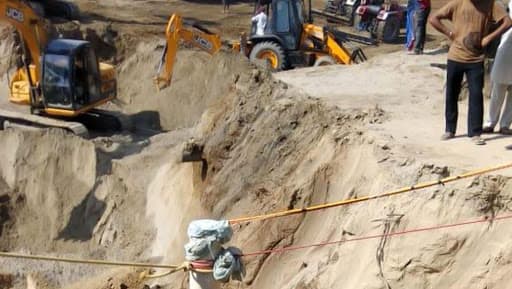 Haryana, November 4: In a news that comes as a huge relief after the death of two-year-old Sujit Wilson, a  five-year-old girl who fell into a 50-foot-deep borewell in Karnal has been rescued on Monday morning.  According to an Indian Express report, the girl is reportedly in a critical condition and she was rushed to the hospital after being pulled out from the borewell.
The accident took place on Sunday and is believed to have occurred between three to four pm. However, the incident came to the light after her parents started looking for her around 8:30 pm and realised that she might have slipped into an open borewell. Haryana: 5-Year-old Girl Falls Into 50-Feet Deep Borewell in Karnal, Rescue Operations On.
The report mentions that a group of villagers had tied a mobile phone with a string and dropped it inside the borewell with the video recording mode on, and it was then confirmed that the girl has slipped inside. Then they contacted the local authorities for the rescue operation.
It has hardly been a week since Sujith Wilson's death after he fell into a borewell which led to his death. Last week, Wilson, a two-year-old boy who fell into an abandoned borewell in Nadukattupatti village in Tamil Nadu's Tiruchirappalli district, died after being trapped for four days.