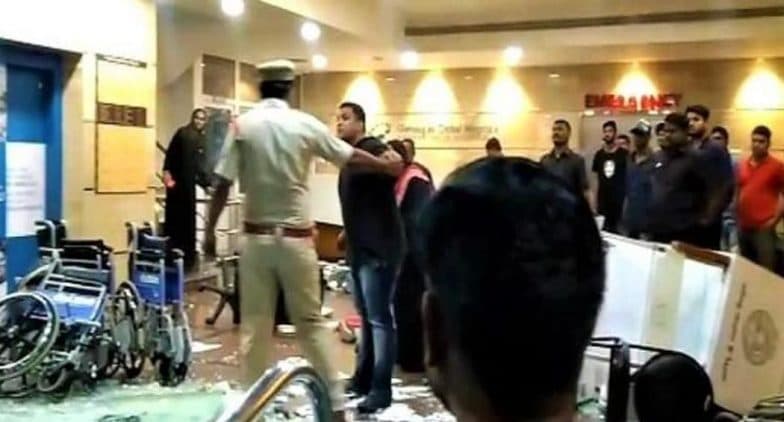 Hyderabad, December 25: An angry mob on Monday vandalised Global Hospital in Hyderabad's Lakdi ka pul area and a police constable and security staff of the hospital were allegedly beaten up by the kin of a 45-year-old woman after her death. As the crowd was hostile, police personnel became helpless. According to reports, the decreased, Samina Begum was undergoing treatment for lung disease, when she succumbed. Bihar: Nurses of a Hospital in Katihar Thrash a Doctor Who Allegedly Molested Female Medical Staff; Watch Video.
On being informed of her demise, outraged family members attempted to storm the doctors, vandalize table, chairs, and wheelchairs at the reception as well as overturning the desk. Videos of the incident have been going viral on the internet wherein a mob can be seen damaging the hospital property.
Watch Video:
After the death of a patient undergoing treatment for Swine flu in Global hospital, the family members of the patient ransacked the hospital premises by indulging in vandalism on Monday night at lakidikapul.#Hyderabad @TOIHyderabad pic.twitter.com/jiR8oWdy1O

— Srinath Vudali (@srinathvTOI) December 24, 2018
"They have not done treatment properly and they have been asking money daily. The staff is asking for cash separately to go check on my mother. They are demanding from Rs 500 to Rs 1,000. Duty doctors are also demanding money separately and saying that they will ensure she is treated properly. It is complete medical negligence," Ahmed, Samina Begum's son, told reporters quoted The News Minute.
Meanwhile, a complaint and a counter-complaint have been filed by hospital management and woman's son. This is not the first such case reported in Hyderabad, earlier in May, angry over family members death, a mob chased and physically attacked doctor at Nizam's Institute of Medical Science, Hyderabad (NIMS).