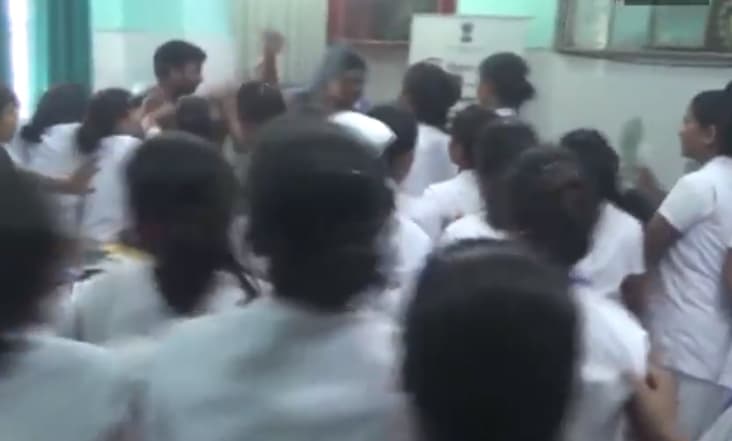 Patna, Sep 16: In a shocking incident, a doctor in Bihar was badly beaten up by nurses in a hospital for allegedly molested a female medical staff.  According to a tweet by ANI, the incident took place at a hospital in Bihar's Katihar city on Sunday. In the video that went viral on social media, a doctor is seen running away from the crowd in a hospital in Katihar. Scores of nurses are seen walking in groups to his cabin to teach him a lesson for life.
In the video, it is seen that the nurses pull him and thrash him for his wrongdoings. Many nurses are seen beating him mercilessly. Reports inform that the doctor eve-teased one of the nurses while on duty and that triggered the brawl and the fellow nurses bashed him up. 
WATCH: Nurses beat up a doctor for molesting female medical staff
#WATCH: Nurses of a hospital in Katihar beat up a doctor who allegedly molested a female medical staff. #Bihar pic.twitter.com/CgoEiN97VA

— ANI (@ANI) September 16, 2018
Earlier this month, a similar incident was reported from Jharkhand where a homeopathic doctor was beaten up allegedly for eve-teasing and attempt to molest a minor girl patient in his clinic According to a PTI report, the incident took place in Jharkhand's Palamu district. The incident came into light when the victim came out of the room and narrated the incident to her family members, which prompted beating up of the doctor.