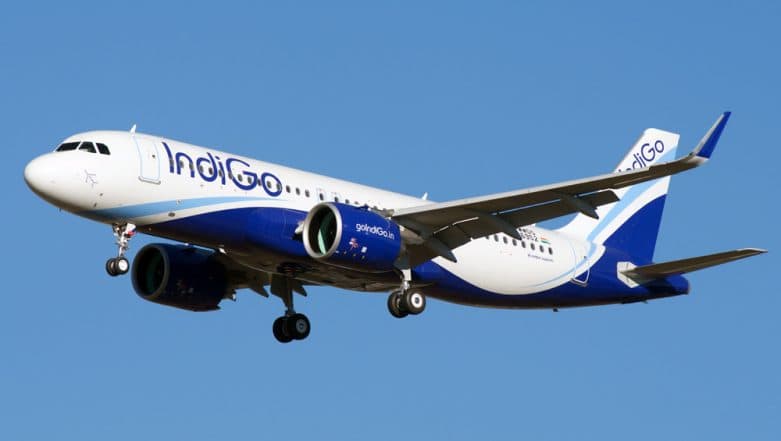 Mumbai, September 5: Flight operations were hit in Mumbai as the city was battered by heavy downpour on Wednesday. However, passengers in a Delhi-bound IndiGo airlines flight lost their cool after their flight was delayed by over six hours at the Chhatrapati Shivaji International Airport runway. Flight number 6E-6097 was supposed to reach Delhi at 5.30 pm. It's departure time from Mumbai was 3:15 pm. However, the Indigo flight could take off from Mumbai only at 9:55 pm, which irked the passengers who took to Twitter to complain about their ordeal. Mumbai: 30 Flights Cancelled at Chhatrapati Shivaji Maharaj International Airport, 118 Delayed.
"Passengers are locked in the flight! Why don't u cancel the license of such pathetic airlines?" said a Twitter user. Passengers also complained about the lack of food and water in the plane. Mumbai Rains: 2 BMC Officials Dead While Trying to Drain Out Water in Goregaon, Child Feared Drowned in Nallasopara.
Check the Tweet Below
It is still 8:14 pm and the flight is still on ground. Indigo is clueless pic.twitter.com/PCpisJAgrO

— Subhash Shankar (@subhash1409) September 4, 2019
Another Angry Passenger
Wonderfull scam from @IndiGo6E after asking 100 times if flight 949 to bengaluru is delayed, it was on time confirmed by indigo employee. For the flight of 20.40 the delayed scheduled information will fly at 21.10 is received at 21.05. At 21.44 no new updat till now. pic.twitter.com/usEL2vbZhl

— Comman Man (@varun_giri79) September 4, 2019
People Expressing Their Helplessness
My grandmother's Indigo flight was scheduled to depart at 21.30 hrs on 4th September from Mumbai to Bangalore. She came home at 5am the next day as her flight had not yet been scheduled to depart. How you can allow airlines to treat passengers like this? @DGCAIndia @HardeepSPuri

— Mitalee Jain (@MitaleeJ) September 5, 2019
Flight operations at Chhatrapati Shivaji Maharaj International Airport (CSMIA) were affected for the second day with cancellation of 30 flights and another 118 getting delayed on Thursday. As per a live flight-tracking website, 14 incoming and 16 outbound flights were cancelled on Thursday. In addition, 118 flights were delayed, including 86 departure.
In a brief statement, Mumbai International Airport Airport Ltd (MIAL) said that "operations are normal". "IndiGo has reported cancellations. Please contact the airlines for further information," it added. The IMD has predicted intense showers in Mumbai and its neighbouring areas in next 24 hours and issued a 'red alert', asking the authorities to be prepared to handle any situation.