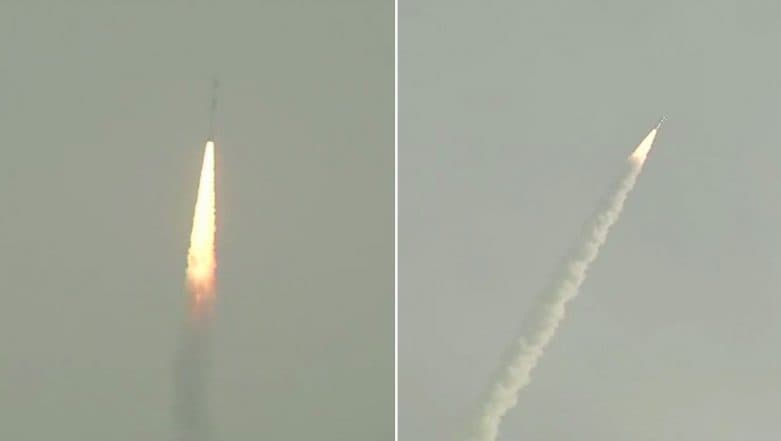 Sriharikota, November 29: The Indian Space Research Organisation (ISRO) on Thursday successfully launched its earth observation satellite- Hyper Spectral Imaging Satellite (HysIS) along with 30 other small commercial satellites. During the launch, all the satellites were placed in a 504 km orbit by PSLV-C43. The Indian space agency launched the mission from the first launch pad of the Satish Dhawan Space Centre (SDSC) in Andhra Pradesh's Sriharikota. ISRO PSLV-C43 Launch: All You Need to Know. 
The launch was scheduled at 9.58 am today from Sriharikota in Andhra Pradesh, about 110 km from Chennai. This was ISRO's 45th mission using the Polar Satellite Launch Vehicle (PSLV) rocket. The HysIS, an earth observation satellite developed by ISRO, is the primary satellite of the PSLV-C43 mission. Watch LIVE Streaming Here.
Take a look at the Launch:
#Watch ISRO launches HysIS and 30 other satellites on PSLV-C43 from Satish Dhawan Space Centre in Sriharikota. #AndhraPradesh pic.twitter.com/ZtI295a4cy

— ANI (@ANI) November 29, 2018
The primary aim of the HysIS satellite is to study the earth's surface in visible, near infrared and shortwave infrared regions of the electromagnetic spectrum. The mass of the spacecraft is about 380 kg. According to details on the ISRO website, the mission life of the HysIS satellite is 5 years. The satellite will be placed in 636 km polar sun-synchronous orbit with an inclination of 97.957 deg.
Take a look at the Video:
The most important part of the PSLV-C43 mission is the HysIS satellite, which aims to further strengthen India's earth-mapping abilities in the near future. The satellite has been designed around the ISRO Mini Satellite-2 (IMS-2) bus which will make observations within the electromagnetic spectrum, among the visible, near infrared and far infrared bandwidths.