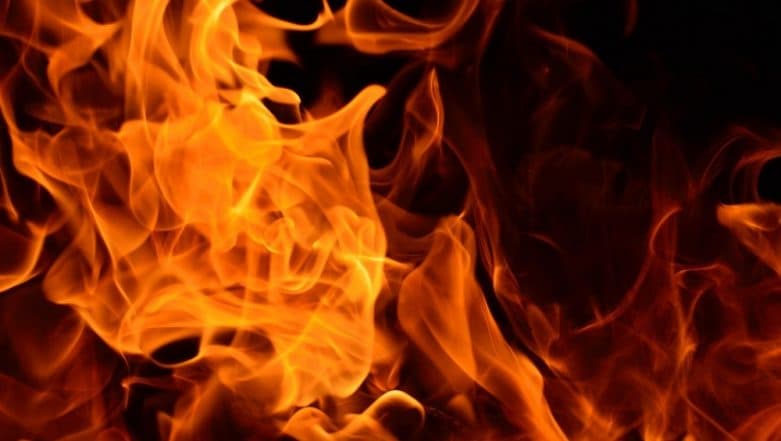 Mumbai, April 13: A fire broke out at Dombivali MIDC region late on Saturday night. The blaze, according to preliminary reports, erupted at the Shreeji Lifestyle cloth manufacturing firm, located in the industrial belt. Bo casualties or injuries were reported by the time this report was first published. Fire-fighting Efforts are underway to prevent the flames from spreading to adjacent and adjoining factories.
The Dombivli fire brigade has dispatched 4-6 fire tenders at the spot to bring the blaze under control. Additional rescue workers could be dispatched if the flames remain untamed. Gujarat: Fire Reported in Oil Mill in Banaskantha's Chandisar area; No Casualties Reported.
Update on Dombivali Fire:
डोंबिवली : डोंबिवली एमआयडीसीतल्या श्रीजी लाईफस्टाईल कंपनीत मोठी आग, अग्निशमन दलाच्या ४ ते ५ गाड्या घटनास्थळी दाखल, आगीवर नियंत्रण मिळवण्याचे प्रयत्न सुरू

— ABP माझा (@abpmajhatv) April 13, 2019
The incident comes a day after a fire broke out in East Dombivali, at the Samata Hospital. Reports claimed that the blaze had erupted at the first floor of the medical facility. However, no injuries were reported.
Due to unplanned and congested construction activities in Mumbai, the city has remained a hotbed of fire incidents. In the year 2018, a total of 3,987 fire calls were received by the Mumbai Fire Brigade (MFB). 12 of them were high-intensity fires, leading to a combined death toll of 22 lives.