New Delhi, October 9: The national capital is getting back to experiencing smog and decreasing air quality as the season of stubble burning returns. The air quality of Delhi has slipped back to "poor" category with the wind now flowing from stubble burning areas in Punjab and Haryana, authorities said on Monday. Meanwhile, NASA fire maps also show several active fires in the areas surrounding Delhi in Punjab and Haryana, clearly indicating how rampant and widespread stubble burning is. Air Pollution Control Device 'WAYU' Installed at Two Spots in Delhi; Here's All About The Purifying Unit.
The red dots in the below image of NASA's fire map shows the number of fires in the regions of Punjab and Haryana. The number of dots indicates the several areas where the fire is being identified. Delhi's Air Quality Slips Back to 'Poor' Category.
The NASA image showing active fires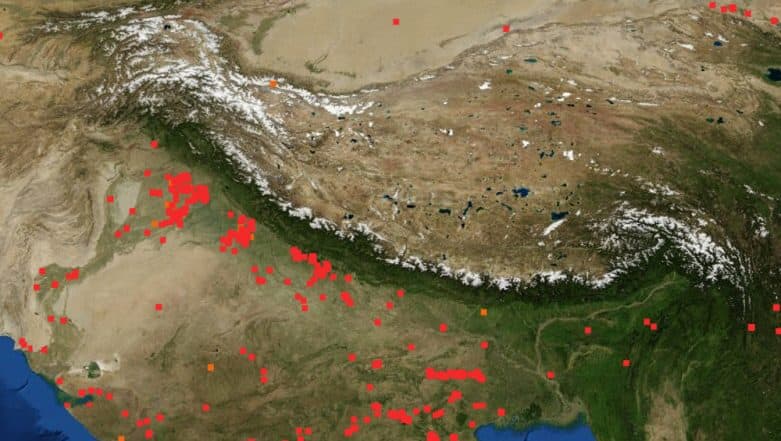 The air quality had on Sunday improved to moderate level with an index of 181, but the air quality slipped to poor category on Monday with the Air Quality Index (AQI) at 262, said the data at the Centre-run System of Air Quality and Weather Forecasting and Research (SAFAR).
An AQI between 0-50 is considered 'good', 51-100 'satisfactory', 101-200 'moderate', 201-300 'poor', 301-400 'very poor', and 401-500 'severe'.
An official at the Central Pollution Control Board attributed the reason behind the slight improvement on Sunday to less traffic and better wind speed, but as the traffic increased on Monday, the pollution in the city again rose and the air quality fell.
Earlier last month, Union Science and Technology Minister Dr Harsh Vardhan  had inaugurated WAYU(Wind Augmentation PurifYing Unit), an air pollution control device, in Delhi. The device would be installed at traffic signals at ITO intersection and Mukarba Chowk in Delhi.