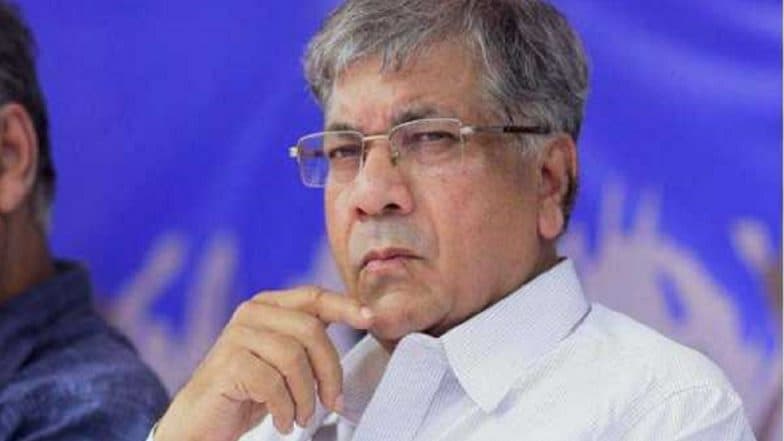 Mumbai, November 19: Bharip Bahujan Mahasangh president Prakash Ambedkar Monday demanded that the Centre pass a bill allowing the Maharashtra government to extend the current reservation limit to 70 per cent to accommodate the Maratha community.
Ambedkar's demand came a day after the Bhartiya Janata Party (BJP)-headed state government announced a new category called 'Socially and Educationally Backward Class' (SEBC) to grant quota to Marathas.
The government is yet to announce the quantum of quota for the politically strong community, which comprises more than 30 per cent of the state's population. Maratha Quota Stir: CM Devendra Fadnavis Assures Permanent Solution to Combat Crisis.
Ambedkar said the Maharashtra government didn't have the right to provide reservation beyond 50 per centlimit set by the Supreme Court without the Centre's nod.
"The state government will not only have to consult the National Commission for Backward Classes (NCBC) but also hasto justify the Gaikward commission report of terming Marathas as asocially backward class because the earlier report of state backward classescommission, headed by retired judges R M Bapat/B P Saraf, wasdifferent," said the Dalit leader.
"How will the state justify or convince NCBC (National Commission for Backward Classes) when the reports of the earlier commission were not favourable?" Ambedkar questionned. He claimed the SEBC category announced by the government already exists under the OBC (Other Backward Classes) and Special Backward Class (SBC) quotas.
"The state should categorise like OBC 'A' and OBC 'B' whileimplementing the Maratha quota. It should notlead to conflict with other communities," Ambedkar added.
At present, the total reservation in Maharashtra stands at 52 per cent consisting of categories like the Scheduled Castes, Scheduled Tribes, Other Backward Classes, Special Backward Classes, Vimukta Jati, and Nomadic Tribes.