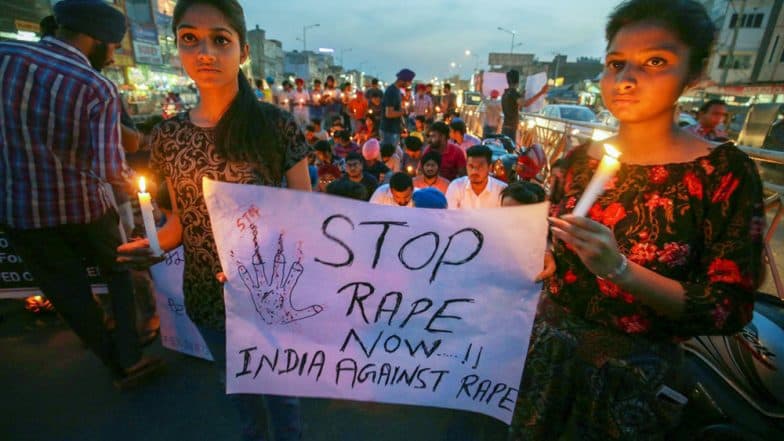 Amritsar, February 12: In a shocking incident of sexual assault, a 15-year-old girl, a resident of Ludhiana's Kila Mohalla was allegedly raped by an auto driver and his friend in Amritsar on February 4. The accused after committing the crime threatened the minor not to tell anybody, and they made her board a bus to Ludhiana. The rape survivor, after reaching Ludhiana lodged an FIR against the accused at Division 4 police station. The accused have been identified as Sahib Singh and Baba. Jharkhand: Monk Arrested for Rape Attempt on Minor, Girl Rescued From the Bathroom of Accused.
According to a report published in Hindustan Times, the girl met a boy, Sahil one year ago when he had come to visit his relatives in Ludhiana, and both got into a relationship. The victim on February 3 left for Delhi to marry her boyfriend, but she boarded a train which took her to Ferozepur. After spending a night there, she boarded a train to Amritsar. Mumbai: Woman Caught Stealing Chocolates Alleges Rape by Constable, Objectionable Pictures Shared on WhatsApp.
After reaching Amritsar, the victim asked an auto driver Singh about the train to Delhi. The accused told her that she would get trains to Delhi the next morning and took her to a hotel. Singh along with his friend Baba allegedly raped her in the hotel. Bihar: Mutilated Body of Missing Girl Found in Gaya, Family Alleges Rape, Inaction by Police.
Ludhiana police has registered a case under sections 376, 34 of the IPC and Section 4 of Protection of Children from Sexual Offences Act (POCSO) against the accused. The police also assured to arrest the accused soon.