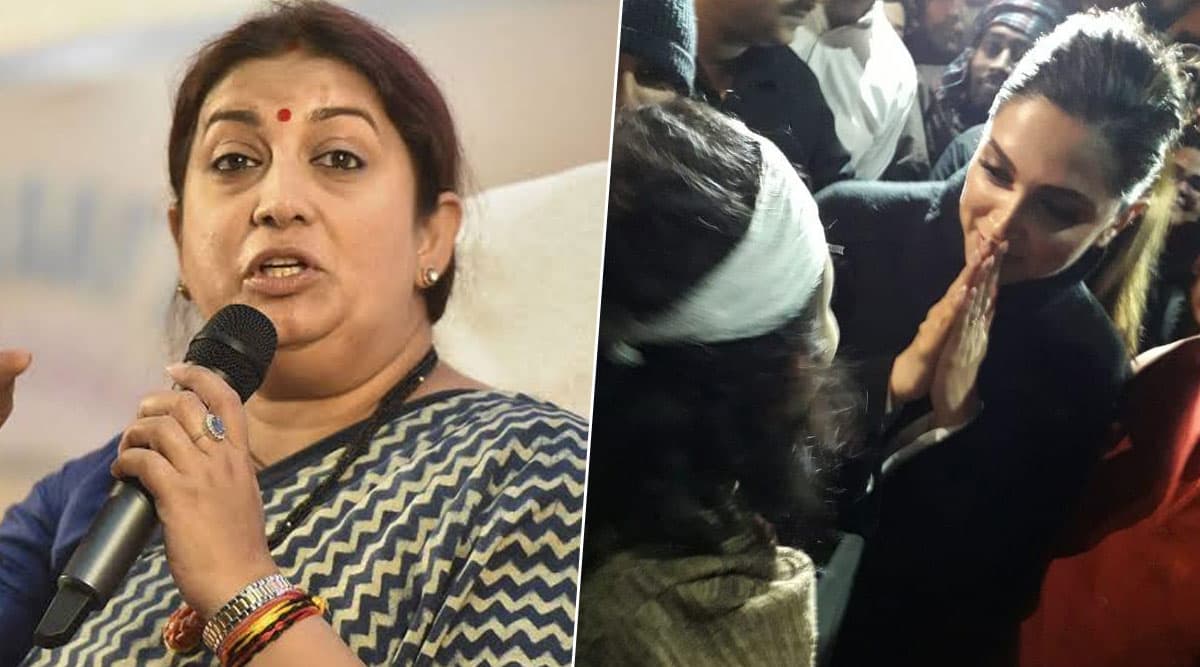 New Delhi, January 9: Union Minister Smriti Irani on Thursday jabbed Bollywood actor Deepika Padukone for visiting the Jawaharlal Nehru University (JNU) on January 7. Irani said that it is Padukone's freedom to stand next to people who say "Bharat ke tukde honge". The Bharatiya Janata Party (BJP) leader added that she wanted to know the political affiliation of the Bollywood actor. The ruling BJP government refers a section of Prime Minister Narendra Modi's critics, who allegedly create fear among minorities and abet the politics of separatism in Kashmir, as "tukde tukde gang". Post Deepika Padukone's JNU Visit, an Old Interview of Chhapaak Actress Supporting Rahul Gandhi for Prime Minister Is Going Viral (Watch Video).
Speaking at the ThinkEdu Conclave organised by The New Indian Express, Irani stated, "I Think anybody who had read the news, knew where they were going to stand. They knew they are going to stand with the people who wanted the destruction of India." The union minister said, "Padukone had made her political affiliation known in 2011 that she supports the Congress." JNU Violence Row: Foreign Minister S Jaishankar Says 'There Was No Tukde-Tukde Gang' in The Institute During His Education Years (Watch Video).
Smriti Irani's Jab at Deepika Padukone:
It's #DeepikaPadukone's freedom to stand next to people who say Bharat Tere tukde honge, says @BJP4India MP @smritiirani at #ThinkEdu2020. @PrabhuChawla @Xpress_edex #JNUProtest @JNUSUofficial @ABVPVoice pic.twitter.com/leGerTbv7l

— The New Indian Express (@NewIndianXpress) January 9, 2020
The Bollywood actor's JNU visit sparked a political controversy. BJP Delhi unit spokesperson Tajinder Bagga asked people to boycott Padukone's movies. Bagga shared a picture of Deepika Padukone standing alongside injured JNUSU President Aishe Ghosh and former JNU student Kanhaiya Kumar and wrote along with it, "RT if you will Boycott Movies of @deepikapadukone for her Support to #TukdeTukdeGang and Afzal Gang."
However, Union Minister Prakash Javadekar came in support of the Bollywood actor. He that India is a democratic country and everybody has the right to go anywhere. The union minister also added, "Why only artistes, any common man can go anywhere to express his opinion, there cannot be any objection."
Padukone visited the JNU to express solidarity with the students who were recently attacked on the university campus on January 5. She shared the stage with JNUSU president Aishe Ghosh. Former student leader Kanhaiya Kumar was also present there.