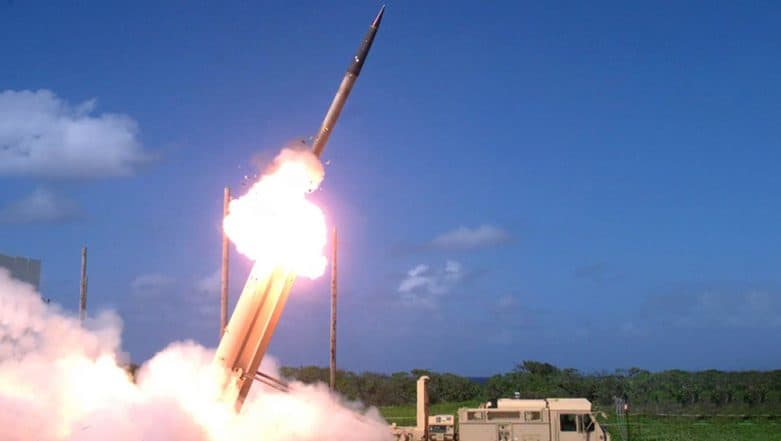 New Delhi, May 12: The United States has offered India an alternative to Russian S-400 air defence system. The US has pitched for Terminal High Altitude Area Defense (THAAD) and Patriot Advanced Capability (PAC-3) missile defence systems. The offer was made as the US government till now did not give official assurance to India whether it would exempt New Delhi from Countering American Adversaries Through Sanctions Act (CAATSA) for signing a deal with Russia. S-400 Defence Deal: 'CAATSA Is To Impose Costs On Russia And Not For Allies Like India', Says US.
However, last year in September, during the inaugural 2+2 meeting in New Delhi between the two countries, US officials had assured India to waive these sanctions for S-400. But, recently, Trump administration is preventing Turkey, a NATO ally, from going ahead with its own plans to buy S-400s. The offer to India was made some weeks ago, however, the exact date is still not known. India Will Soon Find out About My Decision on CAATSA Sanctions: Trump.
Each unit can cost of a THAAD defence system is reported to be $3 billion. In November last year, Saudi Arabia had also signed a deal with the US in November to buy 44 THAAD launchers and missiles, reported Hindustan Times. There are six launchers in each battery of the THAAD air defence system. Meanwhile, there are eight launchers in S-400. Indian has signed a $5.4 billion deal with Russia.
Meanwhile, after India signed the deal with Russia to procure S-400 air defence system, US President Donald Trump had said that India would soon find out about his decision. Under the CAATSA sanctions, which was amended last year, only Trump has the authority for the presidential waiver to India on weapons deal with sanctions-hit Russia.