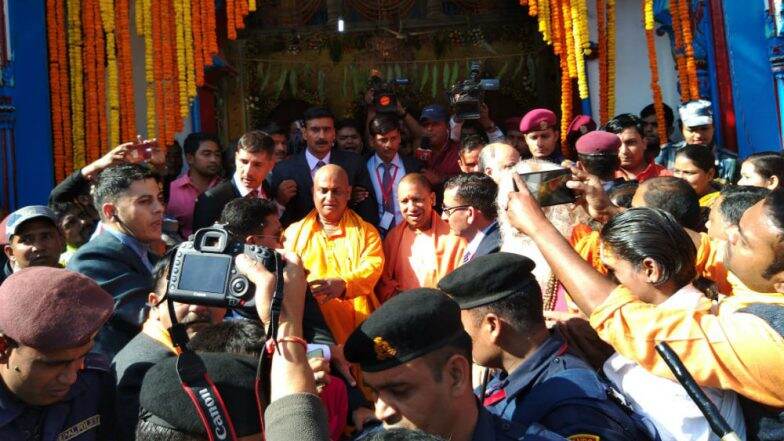 Lucknow, December 12: Uttar Pradesh Chief Minister Yogi Adityanath on Wednesday visited Janakpur in Nepal on the occasion of Vivah Panchami. On his arrival there, Adityanath received a warm welcome by Federal Minister for Tourism and Civil Aviation Rabindra Adhikari and Province 2 Chief Minister Lal Babu Raut. Adityanath visited the famous Janaki temple where he offered prayers and sought blessings of Goddess Janaki.
The historic city of Janakpur has been decked for the celebrations of Vivah Panchami, the wedding of Lord Rama and Goddess Sita. During the week-long celebrations, various rituals of the Rama-Sita marriage are being performed. The festival is observed on the fifth day of Shukla Paksha in Margashirsha month of Hindu calendar. Janakpur in Nepal to Ayodhya: Birthplaces of Ram and Sita to be Connected by Bus Service.
Yogi Adityanath in Janakpur in Nepal:
#UPCM श्री @myogiadityanath जी नेपाल भ्रमण पर। https://t.co/yWhcMf2CrK

— CM Office, GoUP (@CMOfficeUP) December 12, 2018
#UPCM श्री @myogiadityanath जी का नेपाल आगमन पर राजदूत एम एस पुरी सहित अन्‍य गणमान्‍य व्‍यक्तियों ने स्‍वागत किया।#YogiInJanakpuri pic.twitter.com/M7Md9rcSUF

— CM Office, GoUP (@CMOfficeUP) December 12, 2018
Later in the day, the UP CM will also attend Mithila cultural programme and have lunch with various dignitaries of various sections of society including sadhus and saints. Adityanath is scheduled to meet his counterpart of Nepal's Province 2 Lalbabu Raut and other leaders from Federal and Province 2 governments.
Reports inform that Prime Minister Narendra Modi was invited by his Nepalese counterpart K P Sharma Oli to attend the symbolic wedding procession. However, Modi sent Adityanath to participate on his behalf. The week-long marriage ceremony started on December 7. The first day of the ceremony witnessed the Janakpur Nagar Darshan, the second day was observed with the Fulbari Leela, the third day as Dhanus Yagya, the fourth day as Tilakotsav, the fifth day as Matkor and the sixth is for the engagement and marriage ceremonies.
In Ramayana, Lord Rama, the eldest son of Ayodhya's King Dashrath married Goddess Sita, the daughter of King Janak of Janakpur on Vivah Panchami. The Vivah Panchami is an annual festival is celebrated by re-enacting the Ram-Dita marriage ceremony. A large number of Hindu saints from India and Nepal attend the weeklong event in Janakpur. The festival is observed every year to mark the occasion.