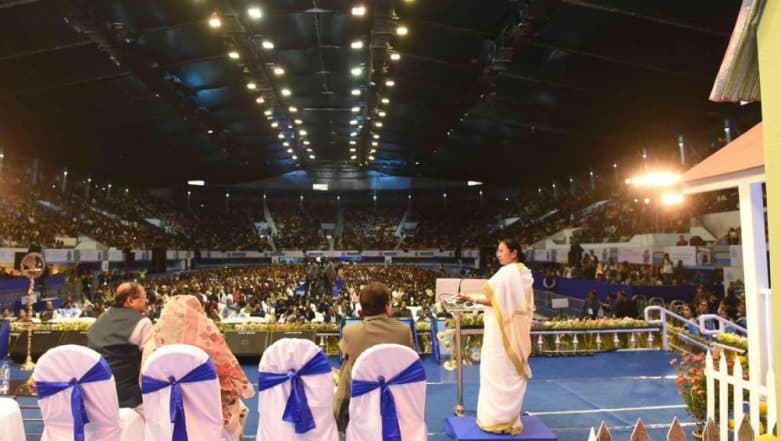 Kolkata, Sep 10: West Bengal Chief Minister Mamata Banerjee on Monday announced that the state government would provide fund of Rs 10,000 to each Durga Puja committees in the state. Banerjee made the announcment at a preparatory meeting with the representatives of various Durga Puja organising committees in Kolkata.
"There are 3000 Durga Puja organising committees in Kolkata and 25000 across the state. The state government will provide Rs 10,000 each to the Puja committees under community development programme. A total amount of Rs 28 Crore is required for this," Banrjee said. The chief minister also announced the annual Durga Puja Bishorjon Carnival will be held at Red Road on October 23. Won't Allow NRC in Bengal: Mamata Banerjee.
Banerjee made a vield attack on the Bharatiya Janata Party (BJP) and said, "Do not pay heed to inciteful propaganda. One communal political party wants to polarise people on religious lines. We love Hinduism. It is not an imported religion. Hinduism has its roots in India." "For the last couple of years, Eid and Durga Puja were held peacefully around the same time. There have been no untoward incidents," she added. Majherhat Bridge Collapse: One Dead in Kolkata, Mamata Banerjee Orders Probe.
"Some people make tall claims. Can they organise Bakr-Eid and Durga Puja at the same time? No. Last year we had to stop Bishorjon for one day because of Muharram, and because of that a lot of propaganda was carried out on social media. Some people only criticise on social media. You must exercise caution before believing such propaganda. We will never do anything that is against the interests of the people," the TMC chief.