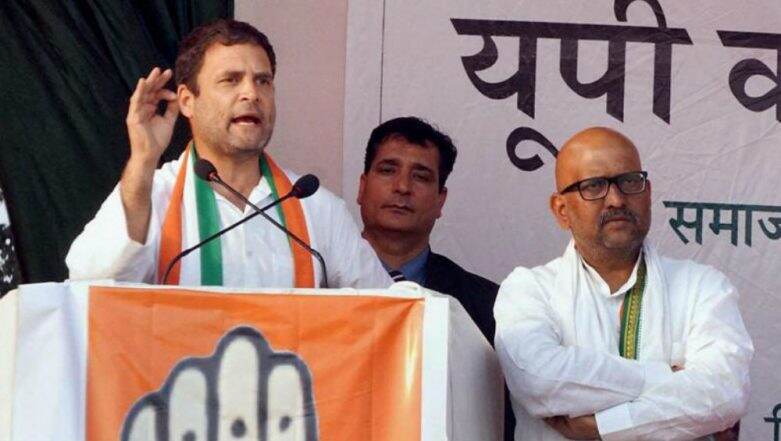 New Delhi, April 24: Contrary to speculations that Priyanka Gandhi would contest from Varanasi Lok Sabha seat in Uttar Pradesh, the Congress on Thursday fielded Ajay Rai to contest polls against Prime Minister Narendra Modi. Ajay Rai had unsuccessfully contested from Varanasi parliamentary constituency in the 2014 Lok Sabha polls. Apart from Rai, Congress declared Madhusudan Tiwari as its candidate from Gorakhpur Lok Sabha seat.
In the 2014 Lok Sabha elections, PM Modi had won from Varanasi with 5,81,022 votes. Aam Aadmi Party's Arvind Kejriwal, Ajay Rai, BSP's Vijay Prakash Jaiswal and Samajwadi Party's Kailash Chaurasia had polled 2,09,238, 75,614, 60,579 and 45,291 votes respectively. The combined votes polled by these opposition candidates was 3,90,722, still 1,90,300 short of what Modi got. BJP Will Be Brought Down to 5 Seats in UP If BSP-SP Alliance Joins Hands With Congress, Says Mood Of The Nation Survey.
Priyanka Gandhi on April 23 said she will contest the Lok Sabha elections from Varanasi if asked by her brother and Congress President Rahul Gandhi. "I am ready to contest and will contest from Varanasi if Rahul Gandhi asks me," she said. Asked if Priyanka would contest from Varanasi Lok Sabha seat against Prime Minister Narendra Modi, Gandhi said a decision is taken by the Congress. Priyanka Gandhi Directed Not to Hurt Prospects of SP-BSP-RLD Alliance Where Congress is Weak: Rahul Gandhi.
"But, we want to maintain suspense for now on the decision we have taken," Rahul told a newspaper. Both Varanasi and Gorakhpur Lok Sabha seats will go to polls on May 19 in the seventh phase of general elections. The results will be declared on May 23.