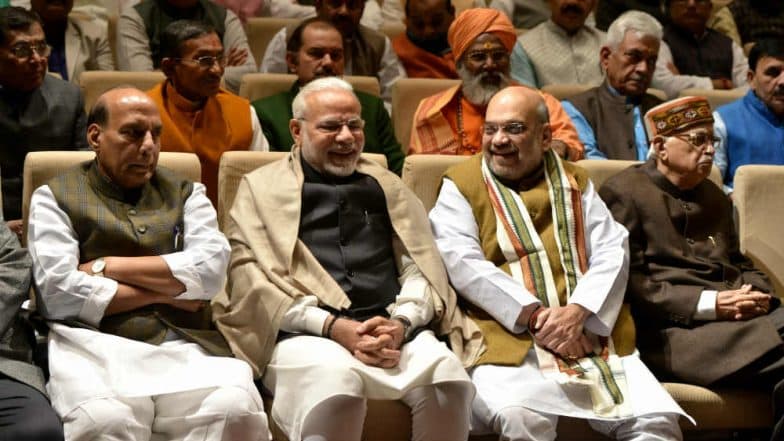 New Delhi, December 13: Days after BJP's defeat in Madhya Pradesh, Rajasthan and Chhattisgarh assembly elections, Prime Minister Narendra Modi will hold a meeting with party's MPs in the national capital. Though PM Modi addresses BJP's parliamentary committee almost every week when Parliament is in session but today's meeting assumes more significance following a major electoral setback in the Hindi heartland states.
PM Modi is likely to speak on the assembly elections results and will throw light on the road ahead as the party gives the final touch to its campaign for the 2019 Lok Sabha elections. PM Modi's address to BJP MPs will be followed by a seven-hour meeting of the party's key organisational leaders. The meeting is scheduled to start in the afternoon and is slated to go late into the evening. Assembly Elections Results: BJP's Defeat in Madhya Pradesh Should Be A Warning Bell For Narendra Modi.
According to a report, BJP national president Amit Shah will meet the party's national office-bearers, state unit presidents and those looking after the organisational affairs. This meeting was scheduled before the results of assembly elections in five states were declared. The BJP was routed in Chhattisgarh and defeated in Rajasthan by the Congress. In Madhya Pradesh, the saffron party came in second after a closely-fought fight. Verdict in Hindi Heartland States Gives Congress Hope for 2019 Lok Sabha Elections.
Meanwhile, Congress is likely to finalise the name of chief ministers for Madhya Pradesh, Rajasthan and Chhattisgarh. Veteran Congress leaders Kamal Nath, Ashok Gehlot and Bhupesh Baghel appear to have emerged as the frontrunners in the race for chief ministership in Madhya Pradesh, Rajasthan and Chhattisgarh respectively.