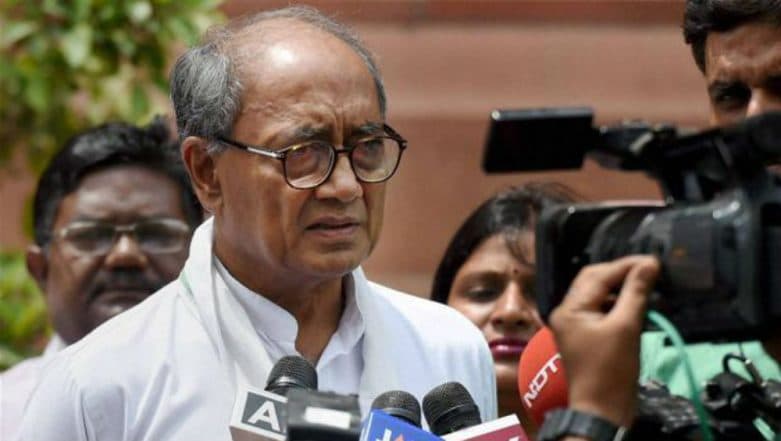 New Delhi, September 1: Bajrang Dal on Sunday condemned senior Congress leader Digvijaya Singh's statement in which he alleged that the pro-Hindu organisation and the Bharatiya Janata Party (BJP) are taking money from Pakistan's Inter-Services Intelligence (ISI). The Bajrang Dal also threatened the senior Congress leader to take legal action against him for his controversial remark. Digvijaya Singh Alleges BJP, Bajrang Dal Take Money From ISI, Says 'More Non-Muslims Spying For Pakistan Than Muslims'.
Bajrang Dal national convenor Sohan Solanki refuted the charges made by Singh. Solanki further added that no worker of the organisation is involved in anti-national activities. "Nearly 40 lakh youth are associated with the Bajrang Dal across the country, it is the largest youth organisation in the country, and Bajrang Dal always serves everyone selflessly," reported India Today quoting Solanki as saying. BJP Alleges Digvijay Singh Has Links With Naxals; Arrest Me, Says Congress Leader.
Solanki also denied any association of Balram, an accused in a terror-funding case, with the Bajrang Dal. He said that Balram was never a member of the organisation. BJP Felicitates Youth Who Rebutted Digvijay Singh's '15 Lakh' Jibe With 'Surgical Strikes' Counter in Public.
Hours after Singh made a controversial comment against pro-Hindu organisations including Rashtriya Sawyamsevak Sangh and Bajrang Dal, he issued a clarification. The Congress leader said that he made the statement after Madhya Pradesh police arrested BJP and Bajrang Dal IT cell workers for allegedly accepting money for ISI and espionage.
In another tweet, he said, "Some channels are running that I have accused Bharatiya Janata Party that they are taking money from ISI and are spying for Pakistan. It is completely wrong."
Digvijaya Singh's Tweet:
कुछ चेनल चला रहे हैं कि मैंने भाजपा पर यह आरोप लगाया है कि वे ISI से पैसा ले कर पाकिस्तान के लिए जासूसी करते हैं। यह पूरी तरह से ग़लत है।

— digvijaya singh (@digvijaya_28) September 1, 2019
On Saturday, the Congress leader, while speaking to reporters in Bhind said, "Bajrang Dal, BJP are taking money from the ISI. Attention should be paid to this. Non-Muslims are spying for Pakistan's ISI more than Muslims." This should be understood. Singh also blamed the Modi government for the economic slowdown and unemployment. He said the economy is deteriorating under the Modi government and there are no jobs in the country.