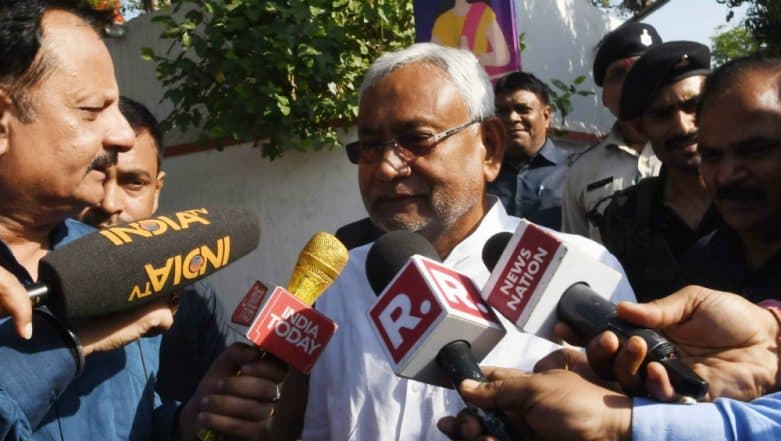 Muzaffarpur, June 18: Almost 17 days after the encephalitis outbreak in Muzaffarpur that has claimed over 100 lives so far, Bihar Chief Minister Nitish Kumar finally visited the district on Tuesday. Nitish Kumar visited the state-run Sri Krishna Medical College and Hospital where 89 children died due to Acute Encephalitis Syndrome (AES). The chief minister, who was accompanied by his deputy Sushil Kumar Modi, faced any protests during his visit to SKM Hospital.
Agitated locals held protests and raised slogans outside SKM hospital when Nitish Kumar was present inside. Slogans like 'Nitish Hai Hai', 'Nitish Go Back', 'Nitish paltu CM' were raised outside the hospital. Nitish Kumar, who was shielded with armed personnel, reportedly didn't speak to relatives of patients and left the hospital within minutes. He also parried questions from the media. He will hold a review meeting with doctors and health officials later in the day to take stock of the situation. All About the Symptoms, Causes, Treatment and Prevention of Encephalitis.
Of the 107 victims, 88 died in SKM hospital and 19 in the private Kejriwal Hospital. In both the hospitals, over 100 seriously ill children with symptoms of AES have been admitted and undergoing treatment. The state government has announced to bear the treatment expenses of all Encephalitis affected patients. On Sunday, a kid died in front of Union Health Minister Harsh Vardhan when he visited SKM hospital. Can Lychees Be Poisonous? Litchis Linked to Encephalitis Deaths in Muzaffarpur – How to Eat This Fruit Safely.
Locals hold protest outside SKM hospital when Nitish Kumar arrives:
#WATCH Locals hold protest outside Sri Krishna Medical College and Hospital in Muzaffarpur as Bihar CM Nitish Kumar is present at the hospital; Death toll due to Acute Encephalitis Syndrome (AES) is 108. pic.twitter.com/N1Bpn5liVr

— ANI (@ANI) June 18, 2019
In view of the graving situation, the government has announced that all schools, colleges and coaching centres, both private and government, would remain closed till June 22 in the entire state.
What is Encephalitis
Encephalitis is a viral disease, which causes mild flu-like symptoms like high fever, convulsions, and headache. Bihar Health Minister Mangal Pandey had earlier said that a team that was formed to ascertain the cause of this disease concluded that sleeping empty stomach at night, dehydration due to humidity and eating lychee on empty stomach were some of the causes of Encephalitis.