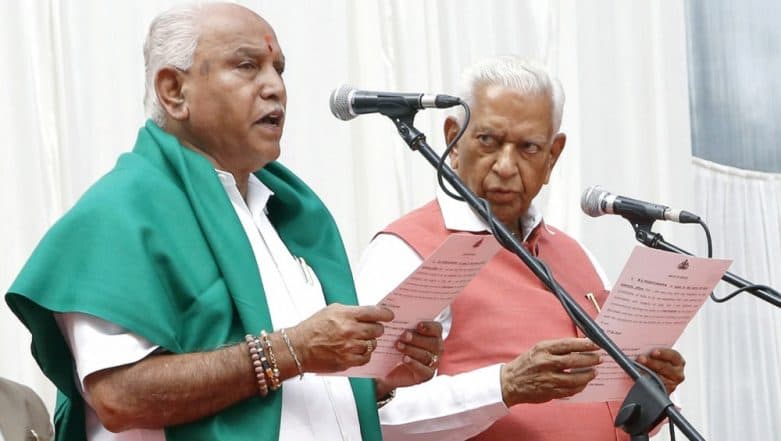 Bengaluru, July 26: Three days after the 14-month-old Congress-JD(S) coalition government fall in Karnataka, BJP state unit president BS Yediyurappa took as the Chief Minister. This was the fourth time swearing-in of the 76-year-old leader, considered to be the party's tallest face in the southern state.
Yediyurappa, in a sudden move, had staked claim towards government formation earlier in the day when he met Governor Vajubhai Vala. He insisted upon the Governor to allow him to take oath by this evening. How BS Yeddyurappa Can Pass The Assembly Floor Test With 105 BJP MLAs
"I have requested Governor to administer me oath between 6-6:15 p.m as the Chief Minister. The Governor has agreed and given me a letter," Yediyurappa told reporters after meeting Vala at Raj Bhavan.
Vala heeded to his request and agreed to administer the oath to office today itself. The council of ministers would be inducted later.
"Who all are to be inducted (in the ministry), I will discuss it with our national president and inform," said Yediyurappa, who was serving as the Leader of Opposition in the current assembly so far.
BSY, as he is popularly referred to, will have to prove the majority of his government by undertaking a floor test within the next seven days.
Ambiguity continues to prevail on the role of 13 rebel MLAs, as Speaker KR Ramesh Kumar is yet to decide on their plea.
The current strength of the Karnataka assembly, following the disqualification of two Congress and one independent MLA, is 222. The halfway majority mark is therefore 112.
However, Yediyurappa may succeed in proving his numbers as the 13 rebel MLAs are unlikely to participate in the motion of confidence, thereby, bringing the effective halfway majority mark of the House to 105.