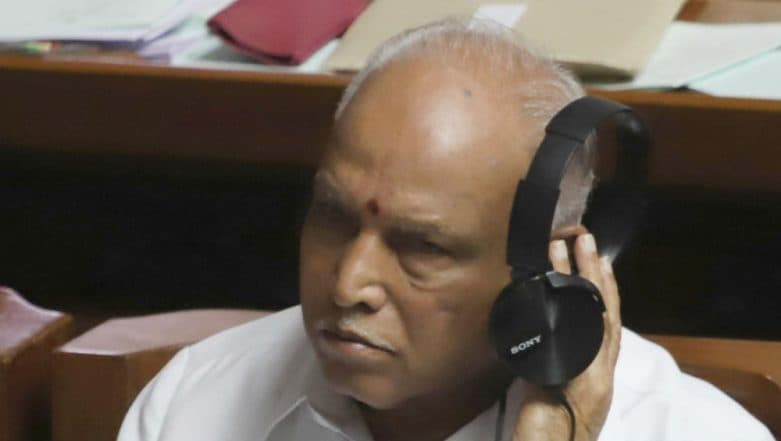 Bengaluru, July 26: Bharatiya Janata Party (BJP) leader BS Yeddyurappa on Friday staked claim to form the new government in Karnataka. The development came two days after the HD Kumaraswamy-led Congress-JDS government failed to prove the majority during the trust vote. The BJP has 105 legislators in the 225-member House. However, following the disqualification of three MLAs yesterday, the strength of the Karnataka assembly is 222.
In this scenario, Yeddyurappa will need the support of 112 MLAs to prove majority on the floor. Yeddyurappa was sworn-in as chief minister after the Karnataka election in May last year that threw a hung assembly. His stint could last just 48 hours. Yeddyurappa resigned just before a trust vote, knowing he didn't have the numbers. If the strength of the Karnataka assembly remains 222, Yeddyurappa will have a tough time to prove majority. Congress-JDS Rebel MLAs to Return to Bengaluru After BS Yeddyurappa Takes Oath as Karnataka CM: Reports.
The fate of other rebel MLAs hangs in balance as the Speaker RK Ramesh Kumar hasn't accepted their resignation. They may not be able to vote for the BJP during the floor test as it will invite anti-defection law. If their resignations are accepted, the strength of the House will come down to 209 and the majority mark slides to 105. In this case, Yeddyurappa will sail through the floor test as BJP alone has 105 legislators. DK Shivakumar Alleges Horse Trading by BJP, Accuses HD Kumaraswamy of Being Lenient.
Even if the rebel MLAs' resignations are not accepted, they may choose to remain absent during the floor test, which will eventually reduce the strength of the House and the majority mark. This will also work in favour of the BJP.  However, Congress can issue a whip asking all party MLAs, including the rebels, to be present and vote against the BJP. If the rebels go against the whip, they would lose their membership.
Till the rebels are re-elected as BJP legislators, the BJP will be compelled to run a minority government. The Congress-JDS alliance together has 100 MLAs (including a member who stayed away from the trust vote claiming he was unwell).