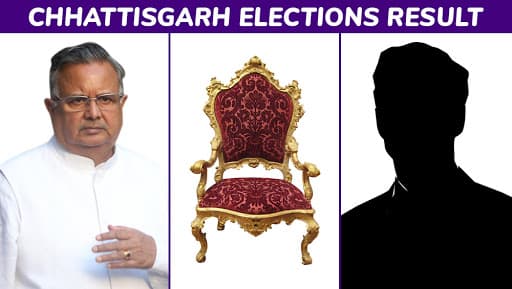 Raipur, December 11: Considered as one of the tallest leader in the Chhattisgarh, three-time chief minister Raman Singh is like a king without a kingdom. In the latest Assembly Elections he managed to save his seat, but lost the state to Opposition Congress, which even they weren't expecting.
Leading in Rajnandgaon constituency with 52,618 seats, Dr Raman Singh has clearly gained the margin over former prime minister Atal Bihari Vajpayee's niece Karuna Shukla. However, under his leadership BJP lost 21.6 percent voters from 2013 in the state. Rajnandgaon Vidhan Sabha Election Results: BJP's Dr Raman Singh Wins Rajnandgaon Seat
Soon after the trends showing Congress leading on 68 seats and stepping forward to form the government in Chhattigarh, Singh realised his defeat and took moral responsibility of it.
Addressing the media after the final trends, he had said, "I take the responsibility for this defeat because the poll was contested under my leadership. We will act as a strong Opposition and work for the development of the state. We respect the mandate that the public has given. I congratulate Congress on this success. I consider it my luck to serve the public of Chhattisgarh for the last 15 years."
With things working for the Congress party in the state, speculations are growing strong on whom will sit on his (CM) seat. Stakes are high that either Dr Shiv Kumar Dahariya or Bhupesh Baghel could be chosen for the topmost seat. But as said, nothing can be confirmed with the Congress, with their prevailing record.
Looking back at what made the incumbency factor working for Congress might be the farmers' distress and promises of the BJP government which they did not fulfil in the last 15 years. Chhattisgarh Assembly Elections 2018 Results Live News Updates: Chhattisgarh Congress President Bhupesh Baghel Says 'Mandate Given by People Historic'
Tribal people and the various organisations helped in split of Chhattisgarh from Madhya Pradesh on November 1, 2000, and considering the case of Naxal-issue to human development, the state government under Singh couldn't tackle the issues properly. Looks like, the anger and depression did play their part in the recently held Assembly elections.
Now, Singh might have to sit in the Opposition, but will have to sit back and rethink on what went wrong. This election depicts a lot about the wave for 2019 Lok Sabha polls, scheduled in April and definitely it's not a 'NaMo' wave.