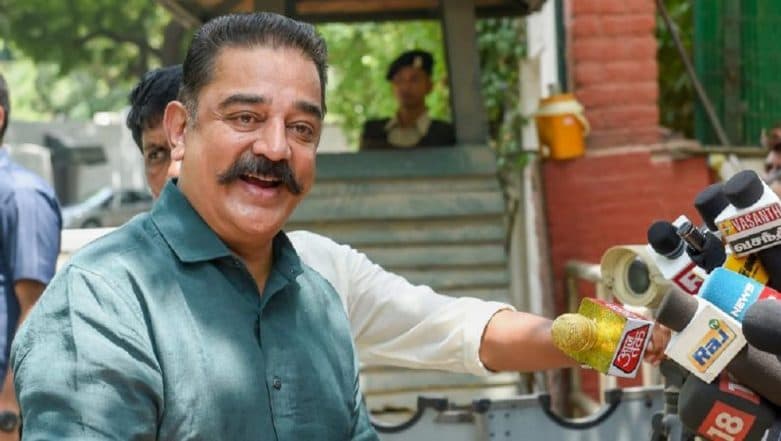 Chennai, February 18: A couple of days after a militant in Jammu & Kashmir carried out a fidayeen strike killing 40 CRPF jawans in Pulwama, actor-politician Kamal Haasan stoked a row by questioning why the government is not conducting a plebiscite in the Valley, as recommended in a United Nations Security Council (UNSC) resolution. Haasan, who heads the recently floated Makkal Needhi Maiam, said the government should not be afraid of holding a referendum.
Haasan, while addressing an event in Chennai on Sunday, said bloodshed in the conflict-ridden Jammu & Kashmir could end only through a peaceful resolution of the dispute. He targeted the politicians on both sides of the border for failing to resolve the issue over the past seven decades. Time For Peace Talks With Pakistan Over, Says Capt Amarinder Singh.
"Why do the soldiers die? Why should our home's watchman die? If politicians on both sides (in India & in Pakistan) behave properly, no soldier needs to die. The Line of Control will be under control," he said.
Further, he purportedly gave credence to the call for a referendum in Kashmir, by saying, "Why India is not holding a plebiscite in Kashmir? What are they (Indian government) afraid of?"
Makkal Needhi Maiam leader Kamal Hassan at an event in Chennai yesterday: Why India is not holding a plebiscite in Kashmir? What are they (Indian government) afraid of? pic.twitter.com/9M6bS5JoWV

— ANI (@ANI) February 18, 2019
Notably, only a marginal section of the Indian polity and activists have supported the call for a plebiscite in the Valley. Prominent among them include senior Supreme Court lawyer Prashant Bhushan, who has consistently been raising the demand to allow the Kashmir populace to "decide their political fate".
New Delhi has ruled out a referendum in Kashmir, calling the state an "integral part of India". On the contrary, Pakistan has been charged of usurping vast swathes of J&K's lands. The area under their illegal occupation includes Gilgit-Baltistan as well.