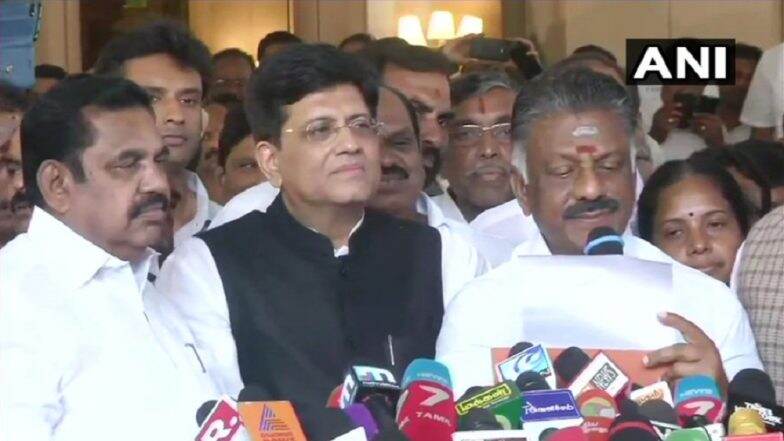 Chennai, February 19: The ruling AIADMK signed a pact with the Bharatiya Janata Party (BJP) on Tuesday to contest the Lok Sabha elections together, with the BJP allocated five of the 39 seats in the state. Deputy Chief Minister O. Panneerselvam told the media here: "Under the AIADMK-led alliance for the 2019 Lok Sabha polls, BJP gets five Lok Sabha seats."
He said as per the pact, the BJP would support AIADMK candidates in the coming Assembly by-elections in 21 constituencies. Union Minister and Tamil Nadu in-charge for BJP Piyush Goyal said: "We have agreed to contest the Parliament elections in Tamil Nadu and Puducherry." BJP-AIADMK Alliance For Lok Sabha Elections 2019: Seat-Sharing Talks in Final Stage.
Tamil Nadu Deputy CM O Panneerselvam: AIADMK and BJP will have an alliance for Lok Sabha elections which will be a mega and winning alliance pic.twitter.com/WeEADmnzR6

— ANI (@ANI) February 19, 2019
"We have agreed to contest the elections under the leadership of Chief Minister K. Palaniswami and Deputy Chief Minister Panneerselvam. "All 40 seats in Tamil Nadu (39 seats) and Puducherry will be won by us," Goyal added.
Asked about other parties like DMDK, Goyal said the alliance will take place in due course of time. He said he will be meeting DMDK leader Vijayakant. Earlier in the day, the AIADMK announced a pact with PMK, whereby the latter would contest in seven Lok Sabha seats and would also get a Rajya Sabha seat in 2019. The PMK would also support the AIADMK in the coming bypolls.