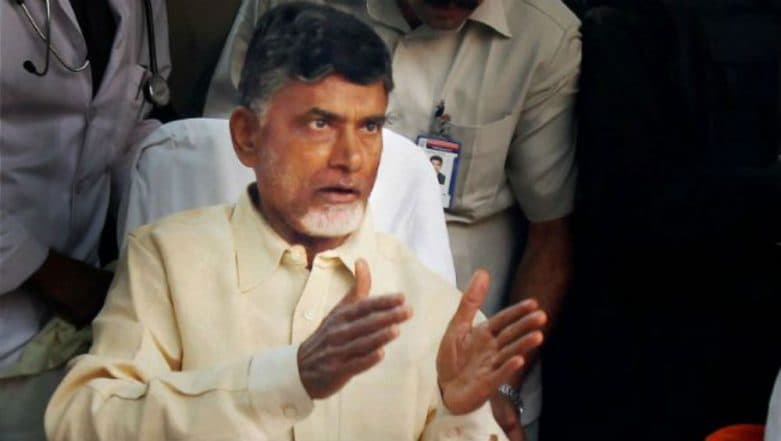 Amravati, January 17: Reacting strongly to Telangana Chief Minister K Chandrasekhar Rao's outreach to YS Congress chief Jaganmohan Reddy, TDP president Chandrababu Naidu said the efforts being taken by KCR are based on the "directions" of Prime Minister Narendra Modi. The proposed federal front, being promoted by KCR, is a "brainchild" of Modi, Naidu alleged.
The Andhra CM launched a stinging attack against KCR a day after the latter's son KT Rama Rao held talks with Jaganmohan Reddy -- the key political rival to Naidu in the state. Addressing the TDP office-bearers via a teleconference earlier in the day, Naidu accused Reddy of "insulting" the Andhra residents by aligning with KCR, "the man who abuse the people of the state". Andhra Pradesh CM Chandrababu Naidu Calls PM Narendra Modi a 'Blackmailer'.
Naidu claimed that the YSRC-TRS tie-up will not only "fail" in the upcoming 2019 Lok Sabha elections, but backfire on Reddy. Voters have "self-respect", the Andhra CM said, adding that they would not cast their mandate in favour of a party which readily aligns with a leader who has "humiliated the state".
Naidu further said that the backward castes would not vote in favour of YSRC after his tie-up with KCR. The latter, claimed the TDP chief, has removed a total of 26 castes from the backward classes list in Telangana.
YSRC spokesperson Botsa Satyanarayana refuted the charges levelled against the party by Naidu. Speaking to reporters, he pointed out how the Andhra CM had himself reached out to KCR ahead of the Telangana assembly elections. However, Naidu had received cold shoulders as the TRS supremo was not in favour of allying with either the Congress or the TDP.
Satyanarayana further clarified that his party would not be entering into any pre-poll arrangement with the TRS in the upcoming assembly elections. "We will field our candidates in all the 175 constituencies," he said. Notably, the legislative polls in the state will be held along with the parliamentary elections.
Naidu, meanwhile, has asked his party cadres to expose the BJP agenda behind the YSRC-TRS tie-up. Calling it a PM Modi's ploy, he alleged that the federal front is conceptualised by the Prime Minister to split the anti-BJP votes.