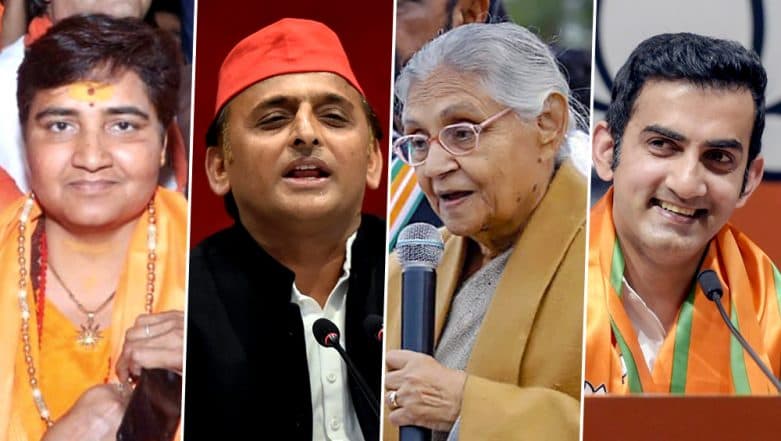 With the sixth phase of General Elections 2019 set to take place on May 12, the elections for the 17th Lok Sabha is in its business end. The polling in 424 parliamentary constituencies are already done over with, and only 118 remain, of which voting on 59 seats (across six states and a union territory) is scheduled to go voting this Sunday. Atishi vs Gautam Gambhir, Akhilesh Yadav vs 'Nirahua' & More Key Battles in Phase 6
The voting will take place in parts of Bihar, Jharkhand, Madhya Pradesh, Uttar Pradesh, West Bengal and whole of Haryana and Delhi. As the battle for Lok Sabha elections 2019 intensifies, LatestLY brings to you a list of key candidates and contests to watch out for in Phase 6 of Elections 2019 on May 12.
Pragya Singh Thakur (BJP) vs Digvijaya Singh (Congress) – Bhopal, Madhya Pradesh
The mother of all battles in Phase 6, rather all the phases, the quest for the electoral battle is not limited to victory in the constituency. It is the clash of ideologies and so much so that one is fighting for survival while the other is battling to debunk the 'Hindu Terror' theory.
In 2014 Lok Sabha Elections, it was BJP's Alok Sanjar who won from Bhopal with a victory margin of nearly 350,000 votes. The second placed Congress' PC Sharma was polled 343,000 votes.
Akhilesh Yadav vs Dinesh Lal Yadav 'Nirahua' – Azamgarh, Uttar Pradesh
The parliamentary constituency of Azamgarh is considered as a stronghold of Samajwadi Party. In this David vs Goliath battle, it will be interesting to see SP chief Akhilesh Yadav clash against BJP's Dinesh Lal Yadav, a.k.a. Nirahua – popular Bhojpuri film actor.
In 2014 Lok Sabha Elections, SP supremo Mulayam Singh Yadav won the constituency by a narrow margin of little over 60,000 votes. The second-placed BJP's candidate Ramakant Yadav had got 277,102 votes in his favour.
Pashupati Nath Singh vs Kirti Azad – Dhanbad, Jharkhand
It is a two-way contest in Dhanbad, Jharkhand too. After a bitter-sour relationship with the BJP, Kirti Azad came into Congress' fold only a few months back. He'll now be taking on BJP's sitting MP Pashupati Nath Singh.
In 2014 Lok Sabha Elections, it was BJP's candidate who won the seat by a whopping margin of nearly 300,000 votes. The second-placed Congress' Ajay Kumar Dubey had got 250,537 votes.
Manoj Tiwari vs Sheila Dikshit Congress – North East Delhi
The battle between the two state-chiefs in North East Delhi will be an electrifying given the political dynamics in the national capital. Caste equations and the issue of unauthorised colonies will play a key role in the constituency. Also in the fray is Aam Aadmi Party's (AAP) Dilip Pandey.
In 2014 Lok Sabha Elections, BJP's Manoj Tiwary won from the constituency with a victory margin of nearly 150,000 votes. The second-placed AAP's candidate Prof. Anand Kumar had got 452,041 votes in his favour.
Gautam Gambhir vs Arvinder Singh Lovely vs Atishi – East Delhi
The battle of East Delhi will be between cricketer-turned-politician Gautam Gambhir and Atishi, who is considered to have changed the education affairs in the NCT. Also in the fray is Congress' former state unit chief, Arvinder Singh Lovely.
In 2014 Lok Sabha Elections, it was BJP's Maheish Girri who won the seat after being polled 572,202 votes in his favour. Rajmohan Gandhi of AAP was second-placed with 381,739 votes; whereas, the then incumbent MP Sandeep Dikshit of Congress came third with 203,240 votes.
Meenakshi Lekhi vs Ajay Maken – New Delhi
BJP firebrand leader Meenakshi Lekhi will take on former president of Delhi Congress Committee in the battle of New Delhi. It will be an exciting battle given how fiercely the candidates have campaigned in the parliamentary constituency. Also in the fray is AAP's Brijesh Goyal.
In 2014, Meenakshi Lekhi defeated two-time incumbent MP Ajay Maken of Congress, when she won by a victory margin of nearly 150,000 votes. AAP's Ashish Khetan came second after garnering 290,000 votes.
Watch: Key Battleground Constituencies in Phase 6
The Election Commission, on March 10, had announced the commencement of Lok Sabha Elections 2019. Since then, voting in five phases has been completed. Along with the above mentioned constituencies the electoral fights in Guna (Madhya Pradesh), Sultanpur (Uttar Pradesh), Sonipat (Haryana) among others will also be exciting to watch. Stay tuned to LatestLY for all the latest updates about 2019 Lok Sabha Elections.