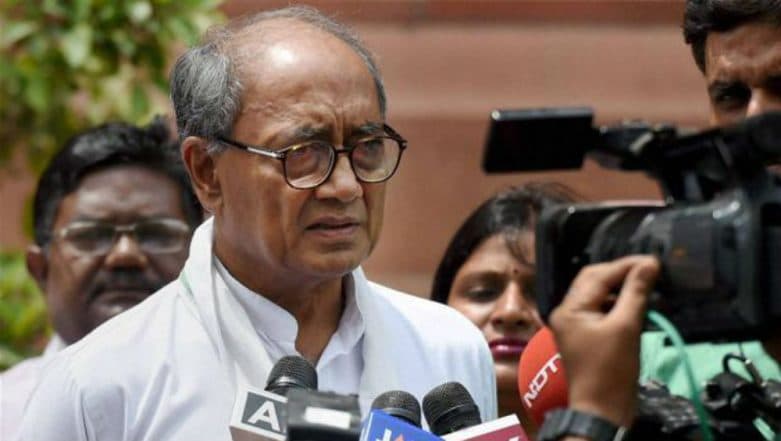 Bhopal, September 5: Senior Congress leader Digvijaya Singh, who has been at loggerheads with state Forest Minister Umang Singhar, on Friday said he leaves it to Chief Minister Kamal Nath and interim Congress chief Sonia Gandhi to maintain discipline within the party. Digvijaya Singh broke his silence over his tussle with Umang Singhar a day after the latter made a poetic attack on the former chief minister. Jyotiraditya Scindia Has This Message For Kamal Nath Amid Feud Within Madhya Pradesh Congress.
"I leave the future process to Kamal Nath Ji and Sonia Gandhi Ji. Discipline should be maintained in every party. If someone breaks it, no matter who he is, action should be taken against him," said Singh in an apparent attack at Singhar who had called the former CM a "blackmailer" involved in illegal mining and liquor trade rackets. On Thursday, Singhar fired a fresh tweet where he seemed to be justifying his actions. Kamal Nath Meets Sonia Gandhi in Delhi Amid Infighting in Madhya Pradesh Congress.
"Usoolon par jahan aanch aaye takrana zaroori hai, jo gar zinda ho to phir zinda nazar aana zaroori hai. Satyamev Jayate (When your principles are at stake, it's imperative to fight and if you have life in you, you must appear to be alive. Truth always triumphs)," Singhar tweeted. Notably, Congress leader Jyotiraditya Scindia had in past used these lines several times during the 2019 Lok Sabha elections.
Chief Minister Kamal Nath had tried to end the raging infighting by accepting Singhar's demand to transfer Excise officer Sanjeev Dubey from Dhar. Singhar had accused Dubey of being Digvijaya Singh's aide. A video in which Dubey was seen speaking to another officer on alleged payments being made to state ministers, including Singhar, by liquor mafia also surfaced on social media.
The ongoing feud withing Congress is about party president's post in Madhya Pradesh. Kamal Nath has held Madhya Pradesh Congress chief's post for more than 16 months now while Scindia's loyalists want him to be handed the reins. Kamal Nath and Digvijaya Singh may have many differences but they are apparently together against Scindia.