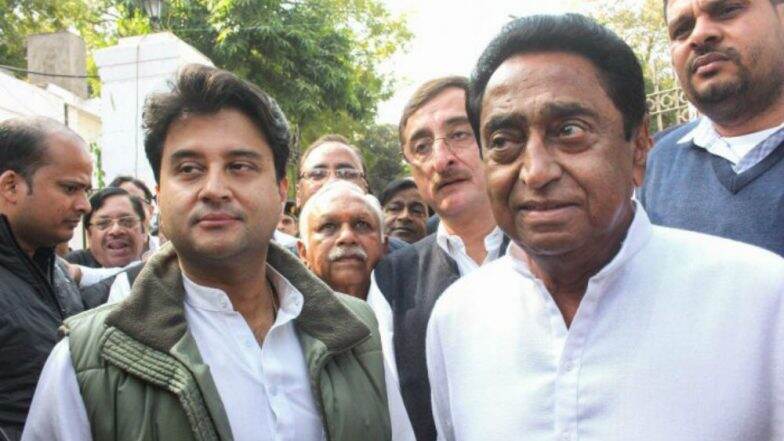 Bhopal, September 4: As the crisis in Madhya Pradesh Congress has snowballed into a full-fledged war, Jyotiraditya Scindia on Wednesday called out Chief Minister Kamal Nath to resolve the infighting. Jyotiraditya Scindia was referring to an ongoing feud between Forest Minister Umang Singhar and former Chief Minister Digvijaya Singh who, according to other Congress leaders, has been trying to run both the party and government from the backseat. Madhya Pradesh CM Kamal Nath Meets Sonia Gandhi, Discusses Congress Party's Organisational Issues.
"It is the Chief Minister's responsibility to resolve differences within the party after hearing all sides. If such issues are happening, then the Chief Minister should listen to both sides and solve them," Scindia told reporters. "There should be no interference in the government, there are no two ways about it," he added. Singhar had called Digvijaya Singh a "blackmailer involved in illegal mining and liquor trade rackets. Scindia said the allegations he had raised "should be heard by the Chief Minister".
Earlier today, CM Kamal Nath, in an attempt to end the raging infighting, agreed to Singhar's demand to transfer Excise officer Sanjeev Dubey from Dhar. Singhar had accused Dubey of being Digvijaya Singh's aide after the latter posted a video on the social media in which Dubey was seen speaking to another officer on alleged payments being made to state ministers, including Singhar, by liquor mafia. Digvijaya Singh Alleges BJP, Bajrang Dal Take Money From ISI, Says 'More Non-Muslims Spying For Pakistan Than Muslims'.
The ongoing feud withing Congress is about party president's post in Madhya Pradesh. Kamal Nath has held Madhya Pradesh Congress chief's post for more than 16 months now while Scindia's loyalists want him to be handed the reins. Scindia camp was made to believe he lost Chief Minister's race to Kamal Nath. The others say he is seeking his "pound of flesh" for sacrificing the claim. Kamal Nath and Digvijaya Singh may have many differences but they are apparently together against Scindia.