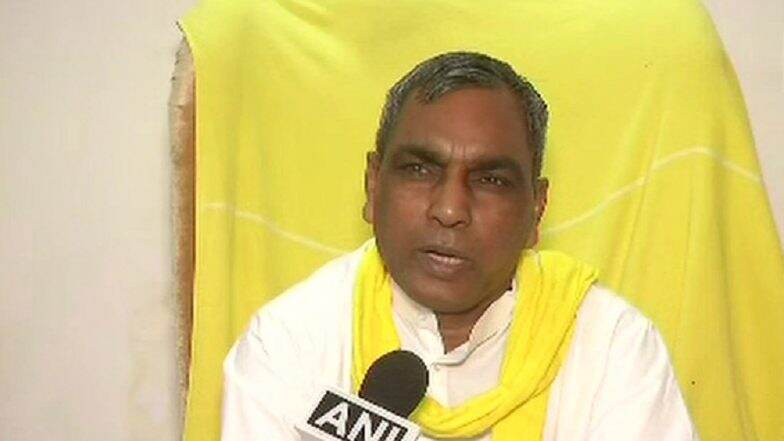 Lucknow, February 14: Uttar Pradesh Minister Om Prakash Rajbhar has offered a resignation from Yogi Adityanath-led BJP government. Rajbhar offered to quit as backward class welfare minister. The Suheldev Bharatiya Samaj Party (SBSP) president took to Twitter and posted a copy of the letter. In the tweet, Rajbhar said that as the government failed to implement 27 percent reservation for backward classes, these people are lagging behind.
In his tweet, the UP Minister also mentioned that students of backwards classes were not given scholarship even after the report of the social justice committee. Rajbhar also said that he would hand over the ministry to CM of the state. UP Minister OP Rajbhar Targets His Own Govt Again, Says Official Bungalow to Shivpal Yadav Proves He is Under BJP's 'Protection'.
Tweet of OP Rajbhar:
पिछड़े वर्ग के छात्र-छात्राओं की छात्रवृत्ति एवं शुल्क प्रतिपूर्ति न दिए जाने एवं पिछड़ी जातियों के 27% आरक्षण के बंटवारा करने के लिए सामाजिक न्याय समिति की रिपोर्ट आने के बाद भी रिपोर्ट लागू न करने से आज हम पिछड़ा वर्ग कल्याण विभाग मा.मुख्यमंत्री जी को सौप दूंगा। pic.twitter.com/ebGUjEvKLL

— Om Prakash Rajbhar (@oprajbhar) February 14, 2019
In the past, Rajbhar attacked his own government on various issues. Earlier, the UP Minister had given a 100-day ultimatum to the National Democratic Alliance (NDA) to implement 27% reservation, failing which he threatened to break all the ties with the ruling government.
In December last year, Rajbhar slammed the Yogi government. He accused Rashtriya Swanyamsewak Sangh (RSS), Bajrang Dal and Vishwa Hindu Parishad (VHP) for inciting violence in Bulandshehr and pointed fingers at the BJP in connection with the case, in which the mob killed police inspector Subodh Kumar Singh. He had also attacked the UP chief minister for calling 'Lord Hanuman a Dalit.