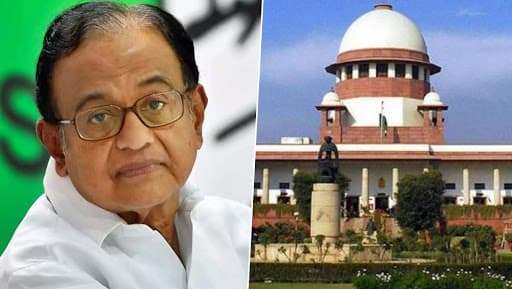 New Delhi, August 23: Former Finance Minister P Chidambaram on Friday got relief from the Supreme Court when it granted interim protection from arrest by Enforcement Directorate till Monday, in connection with INX media case. However, the senior Congress leader will remain in the Central Bureau of Investigation (CBI) custody till August 26.
Following the arrest by CBI on Wednesday night from his Delhi residence, Chidambaram had moved three separate petitions - one against his arrest by the CBI, second against the custodial interrogation order and third for protection from arrest by ED. The apex court had deferred the first two petition on Thursday, while the third petition was granted on Friday. P Chidambaram to Remain in CBI Custody as Supreme Court Defers Hearing on His Plea Against Arrest to August 26
Earlier, the former Union minister was sent to CBI custody till August 26 by a special court on Thursday. He is being investigated for his alleged role in the conspiracy for downstream investment by INX Media (P) Ltd in M/s INX News (P) Ltd. without the approval of the FIPB.
Apart from him, his Karti Chidambaram's name is also being circulated in the judicial domain. Karti has been alleged of exerting influence on public servants of the FIPB in the Finance Ministry to prevent punitive action against INX Group.
Led by Deputy Superintendent of Police R Parthasarathy, a team of CBI arrested Chidambaram on Wednesday after scaling the six-foot-high boundary wall of his residence in the national capital. The high-action political drama unfolded after Chidambaram went missing following the high court order, while his legal team moved the Supreme Court seeking anticipatory bail.