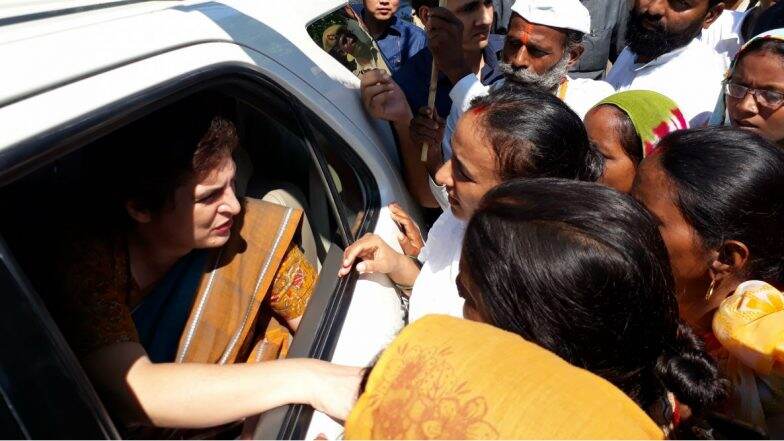 New Delhi, October 7: Congress General Secretary Priyanka Gandhi is hunting a house in Lucknow, apparently to increase Congress's outreach ahead of the Uttar Pradesh assembly elections 2020. Priyanka Gandhi has visited two houses in Lucknow when she arrived in the capital city to lead a peace march organised on the occasion of Mahatma Gandhi's 150th birth anniversary. Priyanka Gandhi Vadra As CM Candidate in 2022, Demand Party Workers in Rae Bareli.
Priyanka Gandhi visited a house in the high-end locality of Gomti Nagar. Another house that she visited is located near Prag Narayan Road, and belongs to former Congress leader and MP Sheila Kaul, News18 reported. Built in a colony for employees of the Uttar Pradesh Power Corporation Limited (UPPCL), Kaul's house has a banyan tree planted there by Mahatma Gandhi himself. Priyanka Gandhi Prepares Plans To Strengthen Congress Ahead of 2022 Uttar Pradesh Assembly Elections, To Meet Party Workers Regularly.
As Priyanka Gandhi is a Special Protection Group (SPG) protectee, both the locations are being evaluated from a security point of view as well. Her search for a house in Lucknow indicates that the Congress leader has plans to stay in the state capital for a long stretch apparently to bolster Congress's campaign for the assembly elections. Since Congress's rout in Uttar Pradesh in the 2019 Lok Sabha elections, she has been regularly targetting the Yogi Adityanath government.
She drew all attention and managed to sideline tall politicians such as BSP chief Mayawati and SP president Akhilesh Yadav during the Sonbhadra massacre episode. There have been speculations of her being appointed as UP Congress chief ahead of assembly polls. Even while campaigning during the general elections, Priyanka had asked the party workers to start preparing for the 2022 Assembly elections.
Here it may be noted that when Priyanka was appointed party General Secretary in-charge of eastern Uttar Pradesh, Rahul Gandhi had said that he had sent his sister to the state with a larger plan. "She hasn't been sent here for four months, she has been sent here with a larger plan... We will not only defeat BJP in 2019 but also win 2022 elections," Rahul Gandhi had told reporters on January 23.