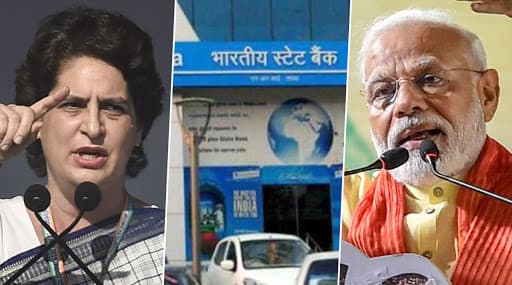 New Delhi, October 11: Amid reports of State Bank writing off bad loans worth Rs 76,600 crore of 220 defaulters, Congress General Secretary Priyanka Gandhi on Friday attacked the Narendra Modi government for waiving off the loans. She asked the Union government that why no action is being taken against the loan offenders while farmers are being put behind bars and people are thrown out of jobs citing economic crisis.
Lambasting the Union government, the Congress leader took to Twitter and wrote, "Farmers are being jailed. The economy is in a fix, and people are thrown out of jobs. People having accounts in PMC are shouting." Adding more, she asked, "But for whom BJP government is laying the red carpet to waive Rs 76,000 crore? Who took the money?" NPAs Cost Indian Banks, Rs 1.76 Lakh Crore Lost in 3 Years Due to Waiving Loans of Defaulters, Reveals RBI Report.
Here's the tweet of Priyanka Gandhi:
किसानों को जेल में डाला जा रहा है। अर्थव्यवस्था खस्ताहाल है, लोगों को नौकरी से निकाला जा रहा है। मुंबई में PMC बैंक से जुड़े लोग चीख रहे हैं।

लेकिन भाजपा सरकार किसके लिए रेड कार्पेट बिछाते हुए 76,000 करोड़ के लोन माफ कर रही है? कौन ले गया ये पैसा?

— Priyanka Gandhi Vadra (@priyankagandhi) October 11, 2019
Earlier, reports arrived that Indian banking system has lost Rs 1.76 lakh crore on account of writing off non-performing loans of 416 defaulters since 2014-15. According to an RTI reply from the Reserve Bank, the scheduled commercial banks laid off a total of Rs 2.17 lakh crore between 2015 and 2018, which were considered as bad debts. Following this, another report arrived that SBI had written off bad loans worth Rs 76,600 crore of 220 defaulters who owed more than Rs 100 crore each.
Apart from this, the number of unique borrowers raised to 199 as on March 31, 2016, whose Rs 69,976 crore amount were written off. The RTI report stated that post demonetisation, there was a sharp increase was witnessed in laying off bad loans, and the so was the case of unique borrowers.