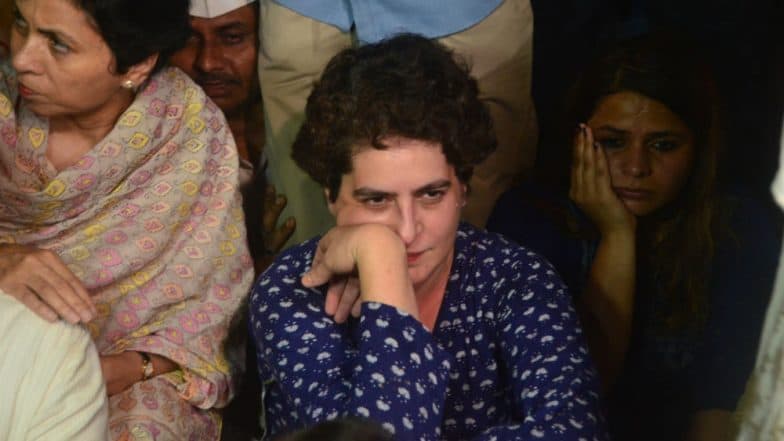 New Delhi, February 5: Priyanka Gandhi Vadra, who has been given charge of the party affairs in eastern Uttar Pradesh ahead of crucial Lok Sabha elections 2019, on Tuesday met a differently-abled boy named Ashish at Aurangzeb Road cluster housing. Priyanka Gandhi inquired about Ashish's health and treatment and interacted with his family members. Priyanka Gandhi arrived in India from abroad on Monday.
Speaking to news agency ANI, after Priyanka Gandhi's visit, Ashish's family said the Congress leader has been helping him for the last couple of years. "She comes every two months, spends time with us and asks us about our well-being. She has been helping us in Ashish's treatment for the last 3-4 years," Ashish's father, Subhash Yadav, said. She will attend the first official meeting of the Congress after assuming the new role on Thursday.
Earlier today, Priyanka Gandhi got an office, adjacent to the room of her brother and Congress president Rahul Gandhi, at the party headquarters on Akbar Road. In the evening, she met a few senior party leaders from Uttar Pradesh and held informal interactions with them. She is learnt to have discussed the party's strategy for eastern Uttar Pradesh ahead of Lok Sabha polls during the informal meetings.
Delhi:Priyanka Gandhi Vadra visited a differently-abled boy Ashish at Aurangzeb Road cluster housing,today.Ashish's father Subhash Yadav says,"She comes every 2 months,spends time with us&asks us about our well-being.She has been helping us in Ashish's treatment for last 3-4 yrs" pic.twitter.com/JXUsO2wqAN

— ANI (@ANI) February 5, 2019
Earlier, Priyanka's involvement with the party was limited to campaigning in Rae Bareli and Amethi Lok Sabha constituencies represented by her mother Sonia Gandhi and Rahul Gandhi. She also campaigned in 2017 assembly polls in Uttar Pradesh, but the party did not fare well. Lok Sabha Elections 2019: Congress Leader Priyanka Gandhi to Login Into Facebook, Twitter Accounts Soon.
Rahul Gandhi also helped Nirbhaya's brother in joining a private airline after completing his commercial pilot training. Badrinath Singh - the father of the 23-year-old whose fatal gang-rape in 2012 left the nation shocked and angry - said that the Congress leader had helped the grief-stricken family in "every way possible he could".