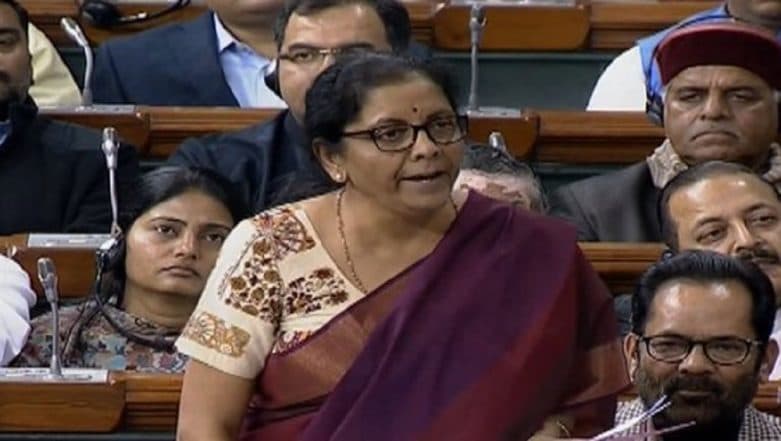 New Delhi, February 8: The Rafale Deal news report by The Hindu on Friday rocked Parliament. While the Opposition demanded a Joint Parliamentary Committee (JPC) probe into the deal, Defence Minister Nirmala Sitharaman accused the report of being 'motivated'. Sitharaman, while responding to the Ministry of Defence note cited by a media news report today, said that periodical inquiry by the Prime Minister's Office (PMO) into the negotiations of the deal did not amount to interference. Rafale Deal Row Escalates: 'The Hindu' Report Shows Defence Ministry Note Protesting 'Parallel Negotiation' by PMO With France; Rahul Gandhi Attacks Narendra Modi.
Sitharaman, while speaking in Lok Sabha, also took a dig at the Congress, saying, "Then Defence Minister Manohar Parrikar ji replied to that MoD note that we must remain calm, nothing to worry, everything is going alright. Now, what do you call the NAC led by Sonia Gandhi's interference in earlier PMO? What was that?" Cong Raking Up Rafale Issue Because It Does Not Want Country's Security Apparatus to Be Strong: PM
Leader of Opposition Mallikarjun Kharge said that the party wanted a JPC probe into the Rafale Deal as they had had "enough of explanations." We demand a joint parliamentary committee, everything will be revealed then, we don't want any explanation now, have heard many explanations, from PM also," Kharge said.
What The Hindu Report on Rafale Deal Says
The Hindu report cited a 'leaked' November 24, 2015 note saying that parallel discussions by the PMO had "weakened the negotiating position of MoD and Indian Negotiating Team. "We may advise PMO that any Officers who are not part of Indian Negotiating Team may refrain from having parallel parlays [parleys] with the officers of French Government," the note said.
The note also suggested that if the PMO was not confident of the negotiations being carried out by the MoD, a "revised modality of negotiations to be led by PMO at an appropriate level may be adopted in the case."
Citing the report at a press conference today, Congress President Rahul Gandhi tore into Prime Minister Narendra Modi over Rafale Deal. "PM Modi himself robbed Air Force's Rs 30,000 crore and gave it to Anil Ambani, we have been raising this since 1 year. Now a report has come where Defence Ministry officials say that PM was holding parallel negotiations with France Government," Gandhi said.