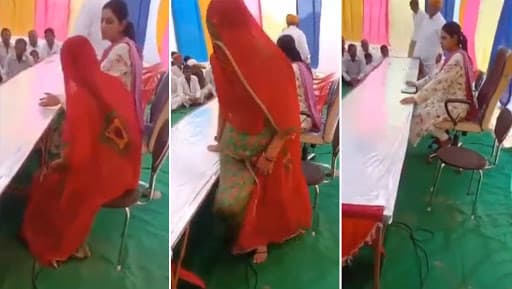 Jodhpur, March 19: Lawmakers in Rajasthan have often been cited making controversial comments and doing weird stuff to retain their dominance in their constituencies. In the latest incident, whose video has gone viral, Congress MLA from Osian seat in Jodhpur – Divya Maderna – while during an interaction with Khetasar village asked a woman sarpanch to vacate the chair beside her and sit on the floor among the locals.
According to the video, the incident took place on March 16, when Maderna arrived at the 'Dhanyawaad Sabha' in Osian. During the event, the woman sarpanch – Chandu Devi – goes on to greet the MLA and sat next to her. Maderna immediately gestures Chandu to sit on the floor with the locals. Soon, Devi left the chair and sat on the floor. On Fuel Price Hike, Rajasthan BJP Minister Rajkumar Rinwa's Shocker: 'Cut Down Consumption, Reduce Expenditure'. 
Being a witness of the 'humiliation' of his wife, Rooparam, as quoted by the Indian Express, "Chandu initially sat on the floor but then people said she should sit next to the MLA, since she is a sarpanch. So she then went to sit with the MLA, but the MLA gestured her to go, so she left her chair and sat among the people for the rest of the sabha."
Here's The Video:
All people are equal some are more equal - #Congress MLA from Osian #DivyaMaderna tells Khetasar sarpanch - Chandu Devi to get off from the chair next to her and sit on the floor in front of her. @DivyaMaderna@INCIndia pic.twitter.com/5618XErYvD

— Sangeeta Pranvendra (@sangpran) March 18, 2019
Adding more, he said that due to the incident, people are very angry with the lawmaker. He said, "Devi did not protest as she is a simple lady and did not want to disrespect the MLA, who had come to the village for the first time. It was Dhanyawaad Sabha after all. Yes, some people are angry over it."
It is to be known that Maderna had earlier slammed a police officer in Jodhpur publically. She told him: "The government has changed, and the MLA has changed, working style hai na dhillam dhillu, woh badal dijiye (change your lethargic working style)." That video too went viral.