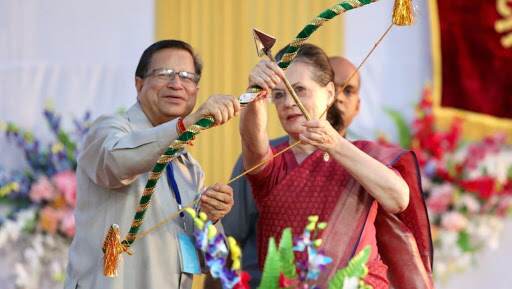 New Delhi, February 19: The Lok Sabha elections are around the corner, and the Election Commission could announce the schedule for the polls on the second week of March. With this, speculation is ripe that Congress may announce that UPA chairperson Sonia Gandhi would contest the national elections from Raebareli in Uttar Pradesh again for the fourth consecutive time. This is the same seat from where she has been contesting since 2004.
Though the report is not confirmed as of yet and an official announcement is in waiting, party sources reveal that Congress might bet Sonia Gandhi for Raebareli – a seat reserved for the Gandhi family in Uttar Pradesh. Earlier, there were speculations that the newly inducted youth icon – Priyanka Gandhi Vadra – might be given the ticket from her mother's seat, but with the new report coming into the light, there are high chances that Congress might look for another safer seat for UP Congress's new general secretary. Priyanka Gandhi Effect? Priyadarshini Raje Scindia Campaigns in Guna For Husband Jyotiraditya Scindia Who is Busy in UP. 
Main Negotiator:
It is to be known the Sonia Gandhi, now 72, led the Congress for the last 19 years and is still considered the strongest politician in the country. Under her guidance, the UPA flourished and ruled for consecutive ten years. However, after the UPA lost power in 2014 Lok Sabha elections, she gave the charge of Congress to her son Rahul Gandhi in December 2017, but is still the UPA chairperson and the main negotiator with allies.
Reports further state that even though she would contest the elections from Raebareli, she might decrease her public engagements, following her ill-health. Also, previous reports have indicated that she might not contest as she has to travel to the US for regular check-ups.
Priyanka's Official Entry:
Considering the induction of Priyanka in the AICC, the chances of Congress securing more seats in the upcoming Lok Sabha elections has increased. Furthermore, giving her the charge of 41 seats in Uttar Pradesh, including Raebareli and Amethi, Congress is eying at 25 plus seats. Also, Rahul's close aide – Jyotiraditya Scindia – would lend a helping hand in the campaign for the party and ensure more 5-10 seats.  Lok Sabha Elections 2019: Priyanka Gandhi Gets Charge of 41 Seats Including Amethi and Raebareli in UP, Jyotiraditya Scindia Gets 39. 
With the Congress looking forward to forming a government in 2019, reports of Sonia contesting the election is a big relief and a morale boost to the party cadre. Since Rahul has been actively vocal against Narendra Modi-led BJP government and allies looking for options for the PM post, Sonia's presence in the top post is utmost required. However, it will be the time that would decide, whether changes in the Congress fold added benefit to it or they will have to retake the consolation prize of opposition in Lok Sabha.
(Views of the writer is personal)