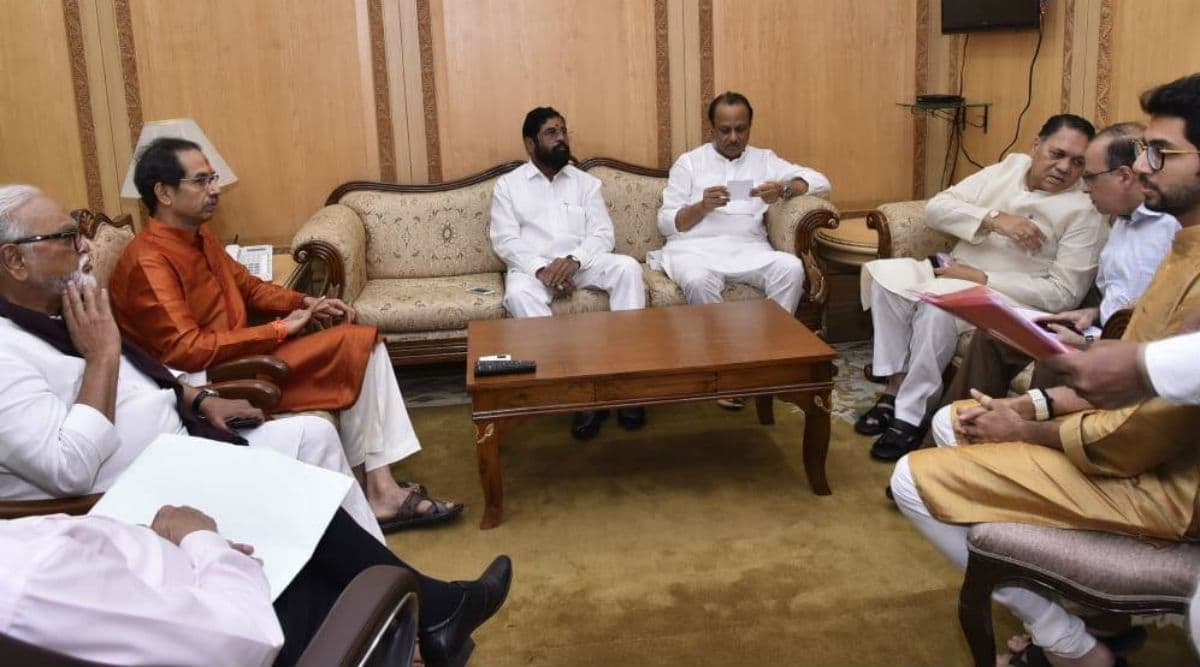 Mumbai, November 28: Moments after taking oath as 19th Chief Minister of Maharashtra, Uddhav Thackeray on Thursday held the first cabinet meeting of the newly-formed Maha Vikas Aghadi government in the state. Speaking at a press conference after chairing the first cabinet meeting, Uddhav Thackeray announced that the government will give Rs 20 crore for conservation of Chhatrapati Shivaji's capital in Raigad Fort. Uddhav Thackeray Becomes Maharashtra CM: A Soft-Spoken Shiv Sena Leader Emerges From Shadows to Become Rightful Heir of Bal Thackeray's Legacy.
"I am happy to tell you all that the first decision that this cabinet has taken is to approve Rs 20 crores for the development of Raigad Fort which was the capital of Chhatrapati Shivaji Maharaj," Uddhav Thackeray told reporters. Asserting that his government will work every section of the society, the newly-sworn in chief minister added: "There won't be a climate of fear." Farmers' issues were also discussed during the first cabinet meet. Amit Shah on Maharashtra Loss: Decision to Take Ajit Pawar's Support Miscalculated Move.
Uddhav Thackeray-Led Government Sanctions Rs 20 Crore For Conservation of Raigad Fort:
मुख्यमंत्री उद्धव ठाकरे यांचा पहिला निर्णय. #रायगड संवर्धन आणि परिसर विकासाच्या नस्तीवर केली पहिली स्वाक्षरी. रायगड संवर्धनाच्या कामासाठी 20 कोटींचा निधी #RaigadFort @OfficeofUT pic.twitter.com/e9KBs2rDHw

— CMO Maharashtra (@CMOMaharashtra) November 28, 2019
"I want to help the farmers in a manner which will make them happy. I want to ensure that the money reaches the farmers, not just announcements. We will announce come with good news for Maharashtra farmers in two days," Uddhav Thackeray announced. On being asked if the Shiv Sena has become secular, visibly angry Thackeray responded: "What does secularism mean? Whatever is written in the Constitution is there."
The announcements come a few hours after he was sworn-in as the Chief Minister of Maharashtra at a colourful function held in Shivaji Park. He is the first from the politically prominent Thackeray clan to hold the post. Besides Thackeray, two legislators from each of Maha Vikas Aghadi constituents - the Shiv Sena, the Nationalist Congress Party, and the Congress, also took oath as ministers. They are Shiv Sena's Eknath Shinde and Subhash Desai, NCP's Jayant Patil and Chhagan Bhujbal, and Congress's Balasaheb Thorat and Nitin Raut.
Uddhav Thackeray Takes Oath as Maharashtra CM:
मी उद्धव बाळासाहेब ठाकरे... pic.twitter.com/rgbiHoFzlX

— Office of Uddhav Thackeray (@OfficeofUT) November 28, 2019
Thackeray will take charge of the Chief Minister's office at 1 pm on Friday. Among the prominent dignitaries present on the occasion were more than 500 farmers and farm widows from all over Maharashtra, Thackeray's cousin and Maharashtra Navnirman Sena President Raj Thackeray, Reliance Group chairman Mukesh Ambani, his wife Nita Ambani and their family.
At least three Chief Ministers from other states, six former Maharashtra CM like Sharad Pawar, Sushilkumar Shinde, Manohar Joshi, Prithviraj Chavan, Ashok Chavan and Devendra Fadnavis were present. Other prominent personalities from all the three parties included Abhishek Manu Singhvi, Mallikarjun Kharge, Kapil Sibal, Rajiv Shukla, Praful Patel, Kishore Tiwari, Supriya Sule-Pawar, Sanjay Raut, Arvind Sawant, Rohit Pawar, and Ajit Pawar and his son Parth Pawar.